UK promises more openness over arms export licences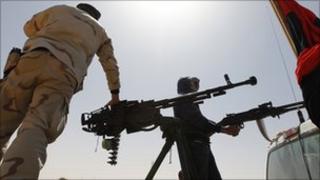 Ministers say they plan to open up the licensing process for arms exports to more public scrutiny.
The government intends to publish information about licence applications and updates of sales, once they have been awarded.
An independent reviewer could also be appointed to scrutinise the process to ensure it is working "correctly".
Controls were reviewed last year amid concerns about use of UK products to suppress protests in the Middle East.
The Foreign Office revoked more than 100 arms export licences to Bahrain, Libya and Egypt following unrest in those countries.
'Working properly'
A subsequent review concluded that there was no evidence that governments in the region had used UK-made arms to crack down on popular protests.
However, the review recommended a series of measures, including suspending licences due for approval when there was a "sharp deterioration" in a country's internal security situation.
This measure has now come into force.
Announcing further proposals on Tuesday, Business Secretary Vince Cable said more openness about the licensing process was needed to ensure Parliament and the public had confidence in the system.
"There is clearly an appetite for more information and transparency," he told the Commons committee on export controls.
"The system should not just be working properly," he said. "It should also be seen to do so."
'Flaws'
Mr Cable said the "vast majority" of British arms sales were to "fully democratic" countries and the licensing system was in place to prevent the sale of weapons to countries judged likely to use them for internal repression or to fuel regional conflict.
This system had responded "effectively", he said, adding that no-one could have foreseen the wave of popular uprisings which swept through the Arab world.
But Conservative MP Sir John Stanley, the committee's chairman, said the fact the UK had been forced to revoke so many licences in 2011 meant there were "fundamental flaws in the judgement used in the system".
He said the government had taken an "over-optimistic and rosy-tinted view" of the behaviour of authoritarian regimes with which the UK had done business in the past.
The business secretary also said the government had decided not to charge firms to submit applications to the Export Control Organisation, the agency responsible for approving defence and dual-use goods.
Mr Cable said he had rejected the idea because it would be an "additional burden" on companies.
The defence sector is one of the UK's largest industries, supporting thousands of jobs.
Campaigners have long called for tighter controls on arms exports.