Mandarins to get extra training to manage key projects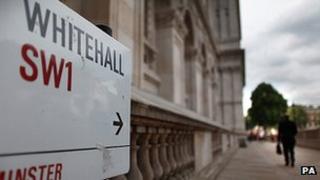 Senior civil servants are to be given special training to help them manage major infrastructure projects and public sector reforms efficiently.
The Civil Service is linking up with the Said Business School at Oxford University to launch a Major Projects Leadership Academy for mandarins.
Attendance will be mandatory for all officials responsible for key schemes.
Cabinet Office Minister Francis Maude said Whitehall already had "impressive expertise", but this would build on it.
The initiative is designed to better equip the civil service to oversee detailed and expensive schemes, and to reduce Whitehall's reliance on external consultants for advice.
A recent report by the Public Accounts Committee suggested the coalition had succeeded in reducing consultancy costs in the past year, but argued that "fundamental changes" would be needed in the way Whitehall operated if the government was to meet its own austerity targets by 2015.
'Long-term view'
The new initiative will see 50 of the UK's most senior civil servants attend the academy in the first year.
The officials have been chosen because they are responsible for implementing major projects such as high-speed rail, the introduction of the Universal Credit single benefit system, the Work Programme and energy market reform.
There are currently 200 "major projects" in the offing, all of which need specific approval by the Treasury.
Mr Maude said the initiative showed the "government means business" when it came to delivering such projects.
"Taxpayers need to know that major projects will be delivered on time and to budget," he said.
"We do have impressive expertise in the public sector at the moment but we want to take a long-term view and build this within Whitehall."
'Foot the bill'
The UK's top civil servant, Sir Bob Kerslake, said: "Crucially, this will relinquish taxpayers from having to foot the bill for external consultancy to deliver the projects and services the country needs."
The impetus for the initiative is believed to have come from both ministers and civil servants, conscious of past costly over-runs and delays to infrastructure and IT projects.
The first leg of the high-speed rail network is expected to cost up to £17bn alone, while reforming the welfare system to create a single consolidated benefit will entail billions in up-front costs - although ministers say it will yield huge savings.
Last year the Civil Service established a centralised training unit to develop generic skills in areas such as strategic thinking, communication and project management at all echelons of the organisation.
The Said Business School, which opened in 1996, was selected as a partner following an open tender process. The initiative is also being backed by professional services firm Deloitte.