Justine Greening to vote against rail bonuses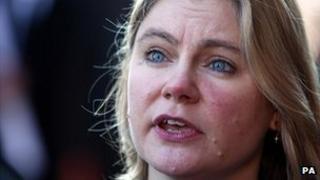 Transport Secretary Justine Greening is to vote against bonuses for Network Rail bosses at the company's annual general meeting.
The government claimed it would send a "very clear signal" it opposed payments like the £340,000 reportedly due to chief executive Sir David Higgins.
But Ms Greening told the BBC she did not have the power to stop the payments because of the way Network Rail is run.
The company has been criticised for its performance.
More than 20 MPs have signed a House of Commons motion saying Network Rail had been "found by the Office of Rail Regulation to be in breach of its licence" and had been responsible for "major asset failures, congested routes and poor management of track condition".
Labour has called on the government to use its place on the company's board to oppose bonuses for the company's bosses, arguing they are not deserved.
But the board's judgement on bonuses is advisory only.
'No decision'
Ms Greening told BBC One's Sunday Politics: "I'm going to go to the meeting next Friday. I'm going to vote against them.
"I won't be able to stop it from going through. The governance structure that the last government set up means I can go and vote against it. The problem we have got is that won't actually change the result.
"The other problem we have got is that the members can vote against the bonus package but, at the end of the day, their vote is only advisory."
The secretary of state for transport has never attended the Network Rail annual general meeting before.
Network Rail has said that "no decision" has been made on bonuses.
Last week, the company admitted health and safety breaches over the deaths of two teenagers killed at a level crossing.
Olivia Bazlinton, 14, and Charlotte Thompson, 13, were hit by a train in 2005 as they crossed the tracks at Elsenham station footpath crossing in Essex.
The firm also faces prosecution over the 2007 Grayrigg train crash in Cumbria, in which one passenger died.