Hague attacks China and Russia over UN Syria veto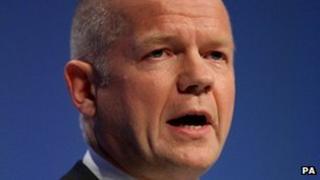 UK Foreign Secretary William Hague has said China and Russia will be "held responsible" for violence in Syria after vetoing a UN resolution condemning government repression.
He said the countries were making a "great mistake" which would damage their standing in the Middle East.
The document was rejected hours after activists accused troops of killing at least 55 people in the city of Homs.
But Russia and China said the proposed draft was "unbalanced".
Violence is continuing to escalate in Syria, with the government attempting to stifle an ongoing rebellion. The struggle has claimed at least 5,400 lives, according to the UN.
'In the way'
But on Saturday Russia and China vetoed a UN Security Council resolution, also backed by the US and France, calling on the Syrian President, Bashar al-Assad, to resign.
Mr Hague told Sky News: "It's clear, given what happened, that Russia and China will be held responsible for this terrible situation.
"They didn't cause the situation, but they are standing in the way of the Security Council."
He added: "I think it's a great mistake on the part of Russia and China to do this. It will have consequences for their influence in the Middle East."
There were no plans to sever diplomatic relations with Syria "at the moment", he said.
However, the foreign secretary insisted that the plight of Syria would be brought back to the UN "in whatever form" and that "we will continue to work with Russia and China to reach a resolution".
He accused the Assad regime of carrying out "unmitigated violence" against its opponents, taking the country "closer to something that looks like civil war".
Mr Hague said: "This is a damned regime, as well as a murdering regime."
He criticised Iran for backing the Assad government, but added that the UK and its allies were "not contemplating military action", as happened in Libya last year.
He added: "This is different from Libya, although there are similarities. There's a regime waging war on its own people... But no two situations are exactly alike.
"In Libya we had the authority of the United Nations to mobilise."
Mr Hague said the consequences of intervention in Syria would be "far more difficult to see than in Libya", as action would have an impact on countries including Turkey, Iraq, Iran and Israel.
After the veto, Russia said the proposed UN resolution had singled out the government and did not contain measures against armed opposition groups.
And China argued that "imposing a solution" would not help to resolve the issue.