Chris Huhne's exit 'a loss to cabinet and Lib Dems'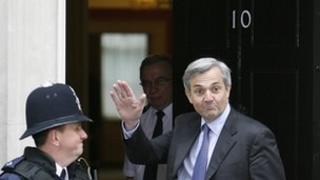 Chris Huhne's resignation as energy secretary will be a big loss to the cabinet and the Lib Dems, says his former parliamentary private secretary.
Mr Huhne quit the cabinet on Friday after hearing he faces a charge of perverting the course of justice over a 2003 speeding case, a claim he denies.
"He played a big role balancing the coalition. It'll be a real loss," said Jenny Willott MP.
Mr Huhne is being replaced by former business minister, Lib Dem Ed Davey.
He is the second high-profile Lib Dem forced to quit the Cabinet since the formation of the coalition government, following the exit of David Laws.
Mr Huhne is regarded as one of the most outspoken Lib Dems who was not afraid to challenge the Conservatives but Ms Willott said that under the circumstances, he had made the right choice.
Ms Willott told BBC News: "He's been described as robust and was never shy of putting his views forward.
"He took the right decision, it would have been hard to carry on while fighting a court case."
Paying tribute to Mr Huhne as someone who was "never shy of putting his views forward," Ms Willott said it was not just the Lib Dems who would feel his loss.
"It's very sad for the Lib Dems and the cabinet to lose a talented politician. He achieved a huge amount as Energy secretary," she said.
Following Mr Huhne's announcement on Friday, Cardiff Central MP Ms Willott, was named an assistant government whip. She resigned as a parliamentary private secretary to Mr Huhne in 2010 in order to vote against the government on the planned rise in tuition fees.
Mr Huhne's replacement will be Ed Davey, who moves over from the Department for Business, and Ms Willott said that despite being a different character to his predecessor, he could prove just as effective.
"Ed Davey as done a very impressive and quiet job in the Department for Business and has sorted out the mess left with post offices," she said.
"He has done a very impressive job, effectively getting on with it and I'm sure he'll do same at the Department for Energy.
"It [Mr Huhne's resignation] will make a difference but I think people underestimate Ed, he's effective in a different way."
Ms Willott also said that she thought that a "clearly a ministerial future beckons" if Mr Huhne was cleared of the charges he faces.
Mr Huhne was generally well regarded within the environmental movement for fighting the cause despite facing opposition from a number of places.
"Most greens think he has done well," environmental campaigner and Labour peer Lady Worthington told the Guardian.
"He has held his own in battles against the Treasury, secured funding for renewable heat and the green investment bank, and he has been very approachable, which is a good thing in a cabinet minister."
Friends of the Earth's executive director Andy Atkins paid tribute to Mr Huhne's contribution, but told the BBC his departure could in fact be an opportunity to promote the green agenda.
"Chris Huhne was a very tough fighter for the green economy - it was obvious he was the one standing up to George Osborne, who was increasingly sounding like the environment was to blame for the economic ills of the country," he said.
"We lose a bold fighter for the green economy, but I think with Ed Davey we have a chance for progress.
"He's much more of a bridge builder and whereas Chris has obviously raised a lot of hackles, I think Ed may go about it in a more diplomatic way with people in the coalition.
"It gives David Cameron a chance to tell George Osborne to make peace with the Lib Dems over the green economy, so I don't necessarily believe his exit will make things slower on the green economy."