Profile: Ed Davey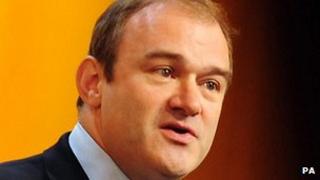 Ed Davey, who has been named Energy and Climate Change Secretary following Chris Huhne's resignation, is a close confidant of Nick Clegg.
The 46-year-old was the party's foreign affairs spokesman prior to the 2010 election and may have hoped to get a Cabinet position after the Lib Dems entered the coalition government with the Conservatives.
Instead, he was given a middle-ranking ministerial position within the Department for Business, Innovation and Skills - led by his colleague Vince Cable.
He is regarded as having performed well in the generally low-profile role, where his brief included responsibility for the Post Office, Royal Mail, employment relations, consumer policy and competition rules.
Mr Davey, was elected to the newly created seat of Kingston and Surbiton, in 1997 with a wafer-thin majority of just 56 votes - he has since increased that to a healthy 7,560.
Mr Davey is regarded as being on the right of the party.
He co-wrote the 2004 Orange Book, which stressed the benefits of the free market in tackling social problems and divided opinion within the party.
Frontbench roles
An expert on taxation and finance, he held a series of frontbench roles under different Liberal Democrat leaders after entering Parliament in 1997.
He was campaigns co-ordinator and chief of staff to Sir Menzies Campbell and some expressed surprise that he did not stand for the leadership after Sir Menzies quit in 2007.
But Nick Clegg promoted him after he won the contest and he has remained one of the party's most popular MPs since then.
Mr Davey's parents died when he was a child, and he was brought up by grandparents.
He was head boy of Nottingham High School - which is also the alma mater of Conservative Justice Secretary Kenneth Clarke and Labour's Shadow Chancellor Ed Balls.
He went to Oxford University, where he gained a first-class degree in philosophy, politics and economics, before joining the Lib Dems as an adviser.
He went on to work as a management consultant until he became an MP.
Mr Davey, whose hobbies include walking and supporting Notts County FC, is married and lives in his constituency.
His wife Emily stood for Parliament for the Lib Dems in the 2010 election but came second in the Dorset North seat.
Mr Davey won a police commendation and a bravery award from the Royal Humane Society in 1994 after he rescued a woman who had fallen on to a railway line in the face of an oncoming train.