CPS to announce decision in Huhne case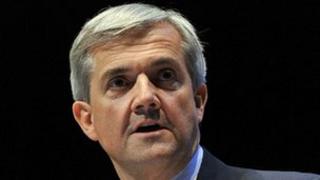 The Crown Prosecution Service will announce on Friday whether it will press charges against Chris Huhne over claims his former wife accepted penalty points on his behalf.
The energy and climate change secretary has denied the allegations.
Essex Police have been examining the allegations against Mr Huhne, dating back to 2003, for several months.
The Sunday Times recently handed over details of emails relating to the case to the police.
Director of Public Prosecutions Keir Starmer is expected to make the announcement himself at 1000 GMT. Mr Huhne will be told of the decision shortly before it is announced.
E-mail evidence
Mr Huhne is facing claims that he asked someone to take his penalty points for a speeding offence in 2003, thus avoiding a driving ban, when he was a member of the European Parliament.
Mr Huhne, the MP for Eastleigh in Hampshire, says the allegations are "simply incorrect" and has welcomed the investigation - which began in May 2011 - as an opportunity to "draw a line under the matter".
Essex Police have twice interviewed Mr Huhne and his former wife Vicky Pryce, who will also learn on Friday whether she will face charges. The couple divorced in 2011.
Last week, the Sunday Times dropped its challenge to a court ruling ordering it to hand over emails - said to be between Ms Pryce and its political editor - to police.
No 10 has said Mr Huhne has denied the allegations and expressed confidence in him. Downing Street has also said the authorities should be left to get on with their investigations.
In an interview published on Thursday - but which was conducted last month, prior to the CPS announcement - Deputy Prime Minister Nick Clegg said he had known Mr Huhne "as long as I've known almost anybody else in politics".
"All I can tell you is that he has made it very clear to me privately and he's said it publicly that he denies any kind of wrongdoing," Mr Clegg told the House magazine.
Neither he nor Mr Huhne had "any idea" what the CPS was going do, Mr Clegg added.
"I can only tell you what I know, which is that Chris says that he didn't do anything wrong"
Press conference
BBC Political Editor Nick Robinson says he understands the prime minister and the deputy prime minister have already concluded Mr Huhne could not continue as a member of the government if he was charged.
"Of course, if no charges are brought Chris Huhne will continue in his job," Nick Robinson adds.
The BBC's legal affairs analyst Clive Coleman said it was unusual for the DPP to give advance notice of an announcement about a possible prosecution and to hold a press conference to explain his reasoning.
But he said it would be wrong to read anything from this into the likely outcome.
Lib Dem MPs are currently taking part in an "away day" meeting in Eastbourne. Mr Huhne attended the first part of the gathering on Thursday but is understood to have since left.
A former journalist who has also worked in the City, Mr Huhne twice stood for the Lib Dem leadership after entering Parliament in 2005. He is one of five Lib Dem ministers in the coalition cabinet, in charge of issues such as energy market regulation and nuclear policy.
He has clashed with his Conservative partners on several occasions, notably during last year's referendum on the voting system when he attacked the tactics used by the Tory-backed no campaign.