David Miliband urges Labour to 'rethink' not 'reassure'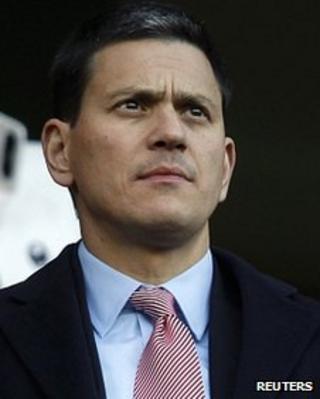 Labour will not regain power until it "fully understands" why it lost support and "clarifies the kind of future" it wants to see, David Miliband has said.
The former foreign secretary outlined a seven-point plan for Labour's future in an article in the New Statesman - in a rare intervention in domestic politics.
He praised brother Ed for maintaining party unity and speaking out "powerfully" over issues like welfare.
But he said Labour needed "restless rethinking" not "reassuring".
David Miliband, who was long-considered the front runner for the party leadership, stood down from front-line politics after he was defeated by his brother in the 2010 leadership race. However he remains an MP and an influential figure within the party.
'Profound damage'
In the article - written in response to an article by former deputy leader Lord Hattersley - Mr Miliband praised his brother for holding the party together in the wake of its general election defeat and for being willing to rethink policy across a whole range of issues.
BBC political correspondent Iain Watson said the newspapers had been playing up the differences between the brothers - but in the article Mr Miliband praised Ed Miliband on four different occasions. However there were subtle warnings for Labour on issues like the "big state" and on business support for the party.
In his article, David Miliband said the party should learn from Tony Blair's willingness to embrace change in areas such as education, health and crime when he became leader in 1994.
"We changed our policy better to fulfil our values, not abandon them," he wrote.
"That is what we have to do again - not because we have changed but because the world has changed. Rethinking, not reassuring."
Mr Miliband takes issue with those in the party who support a posture he describes as "reassurance Labour".
"It is a massive risk to say that there isn't much to worry about in our approach - and in fact, that history is coming in our direction," he said.
While the gains made during Labour's 13 years in power "far outstripped the mistakes", he said Labour must admit what it got wrong during its time in office and seek to "clarify the kind of future we seek for Britain, and the means to achieve it".
'Important points'
But he suggested the party "had a lot to be concerned about" over its prospects for victory at the next election - scheduled to take place in 2015 - due to damage done to its economic reputation and the "successful demonisation of our record" by the Conservatives.
Labour must show they are "reformers of the state and not just its defenders", he added.
"The weaknesses of the 'big society' should not blind us to the policy and political dead end of the 'big state'," he said
"The public won't vote for the prescription that central government is the cure for all ills for the good reason that it isn't."
Ed Miliband has been urged by the likes of Alan Johnson and Lord Mandelson to do more to get the party's economic message across amid concerns that it lacks public credibility over the issue of the deficit and spending cuts.
But the Labour leader has insisted he has been setting the agenda in his call for "responsible capitalism" and has described his row with the unions over Labour's support for public sector pay curbs as a "watershed" moment.
Shadow Chancellor Ed Balls said David Miliband had been "making some really important points" in his article - "which Ed Miliband and I agree with 100%" - "that Labour can only win if we show we are a party for all of business, the whole country, that we are making the case for jobs and growth, but doing so in a disciplined and responsible way".
Former Labour minister Tony McNulty rejected suggestions that the article would be unhelpful to the Labour leader - who faced some questions over his leadership in the New Year in the wake of a poll bounce for the Conservatives.
He told BBC Two's Daily Politics: "Ed's had a very good week... it's not an anti-Ed piece by any stretch of the imagination, I think it's enormously complimentary to everything that Ed has done so far."