Cameron promises to persuade India to buy Eurofighter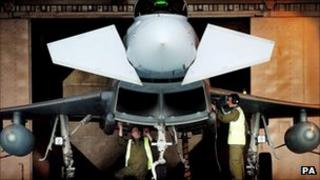 The prime minister says he will do all he can to convince India's government to order British jets after it emerged a major order may go to France instead.
While no deal has yet been agreed, Dassault's Rafale jets have been named as a preferred option, rather than the British-built Eurofighter Typhoon.
"The decision is obviously disappointing," David Cameron told MPs.
"I will do everything I can, as I have already, to encourage the Indians to look at Typhoon."
BAE Systems is one of the companies which stands to benefit if the Indian government chooses the Typhoon, as it would be involved in assembling 126 jets.
Mr Cameron said he did not expect any job losses to result from the decision, and that the Typhoon had not been ruled out as a purchase option.
BAE remains upbeat and says it is "far from a done deal" that Dassault will win the contract.
"Our partner, Cassidian, submitted an attractive and competitive proposal to supply Eurofighter Typhoon, the world's most modern medium multi-role combat aircraft available today," said a company spokesman.
"We believe Eurofighter Typhoon offers the best military, industrial and economic solution for India.
"We will continue to support the Indian customer and its evaluation process and work with our European partner companies and their respective governments to seek to understand the basis of the announcement."