British suppliers to lose priority for defence spending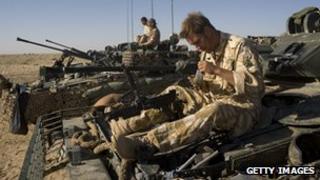 British companies will no longer have priority when it comes to Ministry of Defence (MoD) contracts, a government White Paper has revealed.
The document sets out how the MoD will spend £150bn over the next 10 years but defence procurement minister Peter Luff says companies have nothing to fear.
Matters considered essential for the maintenance of national security will be exempt from the rule.
But unions have called the policy a "stunning betrayal of manufacturing".
The White Paper, called National Security through Technology, contains a guarantee that a minimum of 1.2% of the defence budget will be kept aside for investment in science and technology, at more than £400m a year.
Mr Luff said he wanted the MoD to become a "more intelligent customer".
"We must ensure that our armed forces, national security, and law enforcement agencies have the best capabilities we can afford at the best value for money for the taxpayer," said the minister.
"Wherever possible, therefore, we will seek to fulfil the UK's defence and security requirements through open competition in the domestic and global market, buying off-the-shelf where appropriate."
A MoD spokeswoman said more specific details of the balance between bespoke equipment and off-the-shelf items would become clearer later in the year when the department published a 10-year equipment plan.
Mr Luff said the new system would be good for the British defence industry as it would make it more competitive to the wider market.
"One of the drivers of international success for British defence companies must be their competitiveness, and if you shield them from international competition you actually undermine their ability to compete," he told the Financial Times.
Unions have reacted angrily to the proposal, with Ian Waddell of the Unite union saying the government was doing "next to nothing" to support British manufacturing.
"This is yet another stunning betrayal of British manufacturing," he said.
"This government should be using procurement to support British companies rather than using it against them.
"The defence industry provides highly skilled jobs and is hugely important to the economy. The government is doing next to nothing to support UK manufacturing."
Mick Clancy of the Prospect union said a lack of backing from the British government would also hit companies' exports.
"The UK still needs its own defence manufacturing base," he said.
"Exports will be hit as well. Why would foreign governments buy UK companies' equipment if our own MoD has rejected it?"
Shadow defence secretary Jim Murphy said that practicality must always be the key consideration, and that this approach was the best policy for the British defence industry.
"This will test the government's commitment to promoting advanced manufacturing and high-skills jobs," he said.
"Equipment should not be procured if it cannot be upgraded within the UK.
"This would protect jobs, skills and intellectual property."