Fears over security service cases 'held in secret'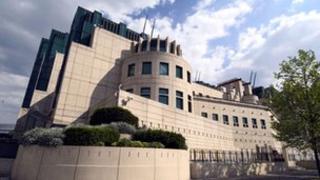 The man appointed to oversee the government's counter-terrorism laws has criticised plans to allow ministers to order some cases involving allegations against the intelligence services to be held in complete secrecy.
The Ministry of Justice wants to allow cases like this, involving what it describes as "sensitive material", to be treated under what is known as closed material procedure.
A Libyan rebel commander who was handed to the Gaddafi regime in 2004 has announced he is is planning to sue the MI6 officer he says was responsible for his rendition.
The government is anticipating a raft of cases like this, brought by people who claim that MI5 or MI6 have been complicit in their rendition or torture.
Under the coalition's proposals cases like this, in the civil courts, could be shrouded in secrecy.
The accusers would not be able to see evidence, based on secret intelligence, offered up in defence. It also places severe limits on what advocates acting on their behalf could do.
David Anderson QC, the Independent Reviewer of Terrorism Legislation, told a parliamentary committee that it would "cause people to be intensely suspicious" if ministers could "click their fingers" and order closed material procedure.
The BBC understands that the Security Service views these proposals as the minimum of what it requires to defend itself in court against such cases.
'Strict conditions'
The intelligence agencies want the restrictions in place to protect against the disclosure in court of highly sensitive information and sources.
There are already similar restrictions in place for a range of legal proceedings involving terror suspects, including Terrorism Prevention Investigation Measures, the Special Immigration Appeals Commission, asset freezes and proscribed organisations.
Mr Anderson told the Joint Committee on Human Rights that the "responsibility should fall to the courts not the government in all cases" to decide if closed material procedure should be used.
The government has claimed that there are currently 27 cases in which sensitive information is central to the case.
In spite of his efforts, Mr Anderson told the committee he "couldn't ascertain how may of those really couldn't be tried without closed material procedure".
He said if closed material procedure is to be made available it must be on what he describes as "strict conditions" and only after it has been triggered by a court, not the government.