PM walking tightrope over European veto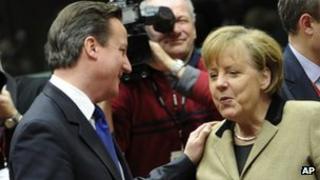 Wind back to December: a paean of praise for a Tory leader on European policy. It was unprecedented, unanimous, and unqualified.
To David Cameron it must have seemed too good to be true. And it was.
Today in the Commons, though, Conservative Eurosceptics swallowed their obvious disappointment that David Cameron had not followed up his "no" to a new EU treaty with further demands.
Instead - for the sake of unity - they sent the prime minister a warning: be sure to hold the line in defence of British interests from the City to the single European market.
The prime minister and his foreign secretary have now warned they may yet mount a legal challenge to the the use of the court and other institutions if there is any threat to British interests. Tory MPs will hold them to that pledge.
To be fair, David Cameron never offered any explicit threat to deny EU states the use of the European Court, or other EU institutions, to enforce new rules in the eurozone.
To do so, he suggested today, might have undermined his own demand for the eurozone to get its act together, and follow responsible fiscal rules.
At least as important, his Liberal Democrat Coalition partners had already made clear, publicly and privately, they would not tolerate a "dog in the manger" veto on the use of EU institutions by the remaining 25 states.
To defy them - and please the Eurosceptics - would have provoked a crisis in the coalition.
So now, Ed Miliband and Labour are enjoying an opportunity to mock David Cameron for talking tough one moment, and giving the EU want it wants the next.
Tomorrow, David Cameron will be pressing the Labour leader on what he would have done differently.
But Mr Cameron may also be wondering whether a large slice of the British public may share the private disappointment of Eurosceptic Conservative MPs - and show it in the opinion polls.