Ex-minister David Blunkett sorry for horse care gaffe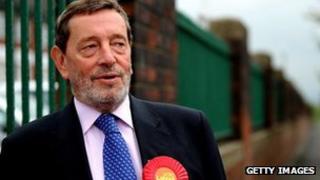 Former Labour education secretary David Blunkett has apologised after saying he did not believe children under 16 were taking courses in horse care at school.
Speaking to BBC Radio 4, he said he thought the course was only available to over-16s, but asked anyone listening to correct him if he was wrong.
Dozens of parents did just that and praised the value of the qualification.
Mr Blunkett then called the Today programme back to say: "Whoops, sorry about that - that'll teach me."
The topic was being discussed because the government has cut the value of more than 3,100 vocational qualifications - including horse care - ending their recognition in England's school league tables.
Such courses had been worth the same as four GCSEs, but ministers say this has created "perverse incentives" for schools to offer such less rigorous subjects in order to boost their league table position.
'Trashing'
Mr Blunkett - who was education secretary from 1997 to 2001 - said it was "entirely wrong" if schools were deliberately seeking to skew league tables.
But he said he feared the message coming out was "a wholesale trashing" of vocational subjects.
He also told Today there was some confusion between what was being studied by those under 16 and those over 16.
"A number of the qualifications mentioned throughout this programme... as far as I'm aware are only available to post 16 students," he said.
"I don't know anybody in my neck of the woods who takes horse care. I think the only people in my constituency who have horses are the police."
He said he believed qualifications like horse and fish care were only being studied in further education and university technology colleges - but invited anyone listening who knew otherwise to correct him.
About half an hour later, presenter John Humphrys said the programme had received "dozens and dozens, indeed probably hundreds of emails from parents saying that their children have done horse care NVQs and are doing rather well out of it".
Shortly after that, Humphrys said Mr Blunkett had called in and asked him to apologise on his behalf for the mistake.