Change City's bonus rules, urges Labour's Ed Miliband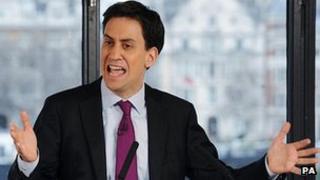 Ed Miliband has said private banks - as well as the part-publicly owned RBS and Lloyds TSB - should be forced to change the way they award bonuses.
Rules had to change "across the board", so large payments were made only to top performers, the Labour leader said.
RBS chief executive Stephen Hester has turned down almost £1m in bonuses. Mr Miliband said others should follow.
But the president of the employers' group, the CBI, has warned against "vilification" of bank bosses.
As the financial squeeze continues, the focus on bonuses has increased in recent weeks.
In particular Mr Hester, who was taken on in 2008 to run RBS - which is 82% publicly owned - has come under pressure over £963,000 he was due in shares.
At the weekend, he announced he would not take the bonus.
'National importance'
But Mr Miliband said: "It's not just the state-owned banks we've got a problem with... it's right across the board."
He added: "Let's change the rules on corporate governance so that, let's say, if you are paid a bonus it's for exceptional circumstances."
Mr Miliband also said: "The culture right across the city has to change and we've got to put in new rules."
When asked if other staff at RBS should receive bonuses worth more than £1m, he said: "I hope they will show restraint, will follow Stephen Hester's example... You can't say 'no bonuses ever to anybody'... [but] are they for people doing their job or for really showing exceptional performance?"
Mr Miliband admitted that the previous Labour government, which oversaw Mr Hester's contract, "could have perhaps been more active" in scrutinising it, but insisted it "was not a mistake" to keep RBS's running at arm's length from ministers.
However, writing in The Times newspaper, the president of the CBI, Sir Roger Carr, warned that the "vilification" of Mr Hester would deter others from taking on "difficult tasks of national importance".
He added: "This cannot be in the long-term public interest. The row has ignored the fact that a talented man with many opportunities for personal enrichment has chosen to accept a job that few were capable of doing and even fewer had the appetite to undertake."
Earlier this month, RBS announced it would cut 3,500 jobs from its global banking division.
The cuts will mean RBS has removed 11,000 employees from its staff, almost halving its 2007, pre-credit crunch headcount of 24,000.
Shares in the bank have fallen by about 36% in the last year.
Prime Minister David Cameron urged RBS to be more considerate when awarding payments to other senior executives, saying: "What needs to happen is a sense of restraint, and they have got to do a better job to demonstrate how pay is linked to performance."