Miliband attacks Cameron over chocolate oranges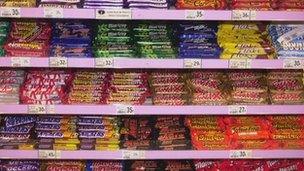 Ed Miliband has attacked David Cameron for failing to stop the sale of cut-price Chocolate Oranges - something the PM complained about in opposition.
In 2006, Mr Cameron criticised WH Smith for discounting chocolate rather than fruit despite the UK's obesity crisis.
"If he can't sort out the chocolate orange, he's not going to sort out the train companies, the energy companies, the banks, is he?" Mr Miliband said.
Mr Cameron complained in a speech while in opposition about "irresponsible" marketing techniques by shops.
"Try and buy a newspaper at the train station and, as you queue to pay, you're surrounded, you're inundated by cut-price offers for giant chocolate bars," he said.
"As Britain faces an obesity crisis, why does WH Smith promote half-price chocolate oranges at its checkouts instead of real oranges?"
Mr Miliband said the fact such items were still on sale - and cheaply - six years on spoke volumes about the prime minister.
"And you know, I think it's very interesting that David Cameron's example of responsible capitalism was the chocolate orange. He's failed to sort it out, why? Because of his basic set of beliefs," he said.
"You know he believes in a nudge philosophy which seems to amount to just asking people to do nice things. But that isn't going to sort out the problem. You've got to change the rules."
In a wide-ranging interview, the Labour leader was also asked about Tony Blair's decision to axe the royal yacht Britannia - and whether he, like the former PM, now felt that had been the wrong move.
"I don't, no, agree. And I think if you are asking about the now, I don't think it's a priority for public money," he said.
A campaign for a new, privately funded yacht for the Diamond Jubilee is now under way, and Mr Miliband was asked whether he would be prepared to donate money.
He replied: "I'm not sure that... well, I don't know, if people come to me, I'll investigate. I think the main principle for me to apply is public money and how public money should be spent.
"I give money to charity in different ways. There are obviously lots of deserving causes."