Jubilee cooking contest may be illegal, says Republic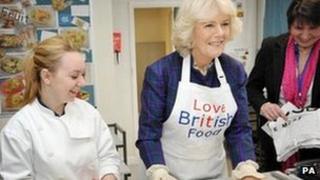 The anti-monarchy group Republic is warning schools they may break the law if they take part in a cooking contest to mark the Queen's Diamond Jubilee.
The contest, launched by the Duchess of Cornwall, is for 10 to 15-years-olds.
But Republic says involving children in celebrations of the monarchy without teaching them about republicanism as well is a breach of the Education Act.
The government said the rules were not designed to stop children taking part in national events.
Events to mark the Diamond Jubilee - 60 years of the Queen's reign - will be held on the weekend of 2-5 June.
'Uncritical celebrations'
The Duchess of Cornwall came up with the idea for the Cook for the Queen competition to encourage children to devise a new dish in the vein of coronation chicken.
That recipe - cold chicken with a creamy curry sauce - was invented to mark the Queen's ascent to the throne in 1953.
The top four entrants will be invited to Buckingham Palace to turn their ideas into canapes with the help of royal chef, Mark Flanagan.
But Republic, which campaigns for the abolition of the monarchy and the creation of a constitutional republic, is unhappy.
Chief executive Graham Smith says schools could breach the law if they hold "uncritical celebrations" of the jubilee without discussing republican views.
He has written to Education Secretary Michael Gove to ask him how he will make sure schools do not breach the rules.
"Through freedom of information research, and from correspondence with concerned parents and teachers, we know that many schools are planning to hold their own jubilee celebrations," the letter says.
"It is quite clear that most of these events and activities will treat the monarchy as self-evidently benign and universally supported, without any indication of the controversy which surrounds it.
"The effect - whether or not it is intended - will be to influence young people to support one contested political viewpoint (monarchism) against another (democratic republicanism). That is exactly what sections 406 and 407 (of the Education Act) were intended to protect children against."
Republic is offering to put parents who want to challenge their children's school in touch with solicitors.
But the Department of Education said: "The law is designed to stop children being indoctrinated by biased and unbalanced political views, not from joining in a national celebration with millions of others.
"Individual schools can choose how to mark the event. It is difficult to see how a cooking competition could possibly be construed as inherently partisan or unbalanced.
"The National Curriculum expressly sets out that classes should teach about all aspects of our political system."