Scottish independence referendum: who should get a say?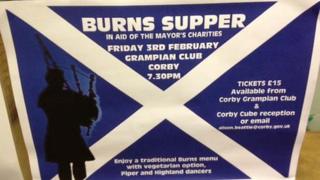 Stepping inside the Corby Grampian Association Club, we learn a quick lesson.
In a confined space, there is no such thing as the bagpipes being played in the background.
The game of pool on the table in the middle of the room continues. But conversations stop.
Rob Muir, 38, is the man with the pipes. He is the Pipe Major for the Grampian Association Corby Pipe Band.
This corner of Northamptonshire has a distinctly Tartan feel. Thousands of Scots were lured here by the prospect of a better life. Steel plants were the initial economic magnet, and whilst the industry locally is now a tiny version of what it was, the attraction of Corby remains.
First, second and third generation Scots here are proud to call Corby home, but equally proud to be Scottish. And not just plain proud: this is gregarious, overt, Scottish-flag-on-your-T-shirt pride.
Which begs the question: should Scots drinking here have a say in a referendum on Scottish independence?
'Born Scotsman'
It is a mistake to confuse national pride with a desire to see Scotland leave the UK. But it is not a mistake to confuse national pride with a deep interest in Scotland's future.
Charlie Stuart, 74, is originally from Banff, in Aberdeenshire. He moved here in 1975. The lapel of his jacket is crammed with badges and crammed with pride.
A badge to mark Mr Stuart's time in the Scots Guards. A badge to mark someone he says he is "devoted" to - Rabbie Burns, the poet often described as Scotland's favourite son. And there are plenty more besides.
There is irritation in his voice when we ask him about the independence referendum. He will not get a vote, and yet someone who moves to Scotland tomorrow would. "They are all going to get the vote, so why shouldn't I as a born Scotsman?" he asks.
Corby's MP, the Conservative Louise Mensch, has picked up on the theme in Parliament. Mrs Mensch doesn't go as far as suggesting expat Scots should get a vote, but she does argue people here, and across the UK, should get a say on how and when a referendum happens.
Sitting opposite Charlie Stuart is Peter McEwan, 64. Originally from Greenock, he too is disenfranchised. But he says that is right.
"There are more Scottish expats than there are people in Scotland," he says. "The people in Scotland are entitled to vote if they want independence. Let them vote.
"We have moved out of Scotland, we have made a life in other parts of the world."
English independence?
But what about those in England, Wales and Northern Ireland? Where would Scottish independence leave people in what is left of the UK?
Enter Derek Hilling, the chairman of the English Democrats in the East Midlands. With a St George's flag badge on his lapel, he is invited into a Scottish private members club with playful suspicion.
The English Democrats argue that devolution has left out the English. They see the Scottish referendum as an opportunity.
"We think there should be a referendum in England at the same time as a referendum in Scotland," Mr Hilling says.
"The people of England should be asked whether they want to remain in the union with the people of Scotland, Wales and Northern Ireland. But they should also be asked whether they want a Parliament and a government with the same powers as Scotland."
As Rob Muir packs up his bagpipes, the messy reality of competing identities and affiliations in the UK is striking.
It is this that provides the backdrop to the debate over Scotland's future, and an insight into the constitutional wrestle ahead.