Labour MP Tom Watson sorry over Twitter 'imposter'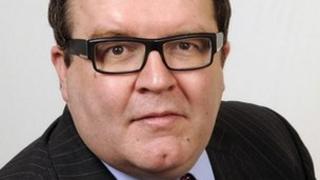 Labour MP Tom Watson has apologised after an intern sent a message on Twitter pretending to be him.
The tweet said: "I should log out of my twitter so that my intern doesn't twit-rape me..."
Shortly afterwards, the intern sent another message to say the West Bromwich East MP was in a meeting and apologising for "a terrible mistake".
The MP and Labour deputy chairman also posted an apology, adding: "A lesson learned for a young intern."
Following the exchange, the hashtag #SaveTheIntern began trending on Twitter.
The first tweet from Mr Watson's account was sent on Thursday morning with a second later posted, reading: "My boss is in a meeting, i've made a terrible mistake, im very sorry everyone, it wasn't meant to be offensive! logging him off now! sorry!"
The MP - who was Labour's minister for digital engagement under Gordon Brown - then sent a third message to say: "I sincerely apologise for the recent tweet. A lesson learned for a young intern. She's also very sorry. I will deal with the matter offline."
Paid intern
Later Mr Watson wrote a blog post on his website about the incident in which he said his staff member was "very embarrassed".
"The intern has not been sacked nor was she ever going to be. She's young. We all make mistakes.
"I know her well enough to know she'll never do this sort of thing again.
"And yes, I know I should have logged out. I really do."
In response to questions about whether the intern was paid, he wrote: "My intern is a student and paid above the minimum wage. She is contracted for a year to work part-time."
Mr Watson rose to prominence as a result of his fierce criticism of News International over phone hacking.
During a hearing of the home affairs select committee, on which he sits, he compared the company's chairman James Murdoch to a mafia boss.
It is not the first time in recent weeks that Labour MPs have found themselves in hot water over their use of Twitter.
Hackney MP Diane Abbott also apologised after she wrote, ''White people love playing 'divide & rule'", in response to criticism of media use of the term "black community leaders" after the Stephen Lawrence murder trial.
Shadow Business Secretary Chuka Umunna said party leader Ed Miliband had "made it very clear in no uncertain terms that the contents of the tweet were unacceptable".
"If Diane believed the words as they were expressed and she had not apologised then Ed Miliband would obviously have taken the requisite action," he said.