New nuclear has 'lots of support' locally - EDF Energy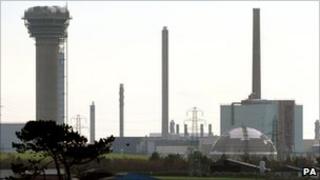 There is a "lot of support" for new nuclear power stations in communities where they are earmarked, one of the firms hoping to build them has said.
An executive from EDF Energy told MPs there was a "strong desire" for the jobs and other economic benefits new reactors could bring across England.
Richard Mayson said his firm had "to live and breathe" its safety values in communities or face a "lack of trust".
Critics argue replacing the UK's existing capacity is a waste of money.
MPs are examining how the public perceives the risks attached to different forms of energy and how their opinions are shaped by scientific advice and media coverage of issues like the Fukushima crisis last April.
The nuclear plant in northern Japan was struck by a tsunami that knocked out electrical systems, preventing cooling in three reactors, leading to meltdowns and release of radioactive materials.
Last month the authorities declared the plant had been stabilised, but said it would take decades to dismantle it completely.
Germany imposed a moratorium on future nuclear expansion after Fukushima but the UK's nuclear inspector has said there is no reason to put plans on hold to replace the UK's existing plants as they are decommissioned from 2016 onwards.
'Healthy debate'
Giving evidence to the Commons science and technology committee, Mr Mayson - EDF Energy's director of planning and external affairs for future plants - said safety was always his firm's top priority.
He said a "healthy debate" was needed on the pros and cons of a new generation of nuclear power plants.
His company - which already operates eight nuclear reactors - believed in being as "open and transparent" as possible in its dealings with local residents where new plants may be sited, he added.
Citing feedback from an initial consultation on a new nuclear site at Hinkley Point in Somerset, he suggested most residents' biggest concern was not whether nuclear was safe but what disruption such a large project would have on the communities.
"I think we have seen a lot of support for new nuclear," he said. "I think we have seen a very strong desire to attract the enormous economic benefits which would accrue to new nuclear."
'Perceptions'
Asked about the impact of Fukushima on UK attitudes to nuclear power, he said "perceptions change" as time passes and the facts of what happened became established.
He said it was not enough for his firm to "put out messages" about safety and their staff living in the midst of communities with large nuclear workforces had a vital role to play.
"If we were not living and breathing our values in respect of safety, openness and transparency it would soon cascade into real problems in the community and a real lack of trust," he said.
One council official said residents near Hinkley Point had lived in the shadow of nuclear power for a long time and were aware how conditions differed in the UK and Japan.
"The debate is different and definitely more reasoned because there is a deeper understanding of the risks," Bob Brown, corporate director of Sedgemoor District Council, in Somerset, said.
'Public trust'
While there was a strong connection to the nuclear industry in Hinkley Point, Mr Brown said people's continuing support should not be taken for granted and communities would expect financial benefits in return for the risks and disruption.
"There is a new round of power stations coming our way and they are significantly larger and more powerful... and there will be new employees and new operations that have not been run potentially in the country before," he said.
"There is trust there but we need to see how it plays out as the process goes through because it will be different and new."
One energy expert from the University of Lancashire said the Sellafied nuclear plant and reprocessing facility accounted for nearly 8% of all employment in west Cumbria.
"People in these communities do not support the nuclear industry or a new facility because they trust the operators," Dr Rick Wylie, executive director of the university's applied policy science unit, said.
"It is because of the... benefits it will bring to their communities."
Environmental campaigners say the Fukushima incident highlighted the serious risks associated with nuclear power.
Friends of the Earth says nuclear plants represent a security risk, there is no long-term solution to how to dispose of waste and the UK can still meet its carbon reduction targets without nuclear.
The government have said they support nuclear expansion to help provide a diverse energy mix in future although they will not provide any public subsidy. Some Lib Dem MPs remain opposed.