November date set for English city mayor elections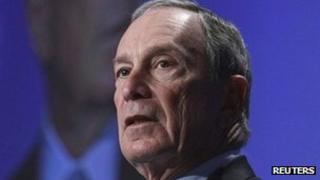 Elections for mayors in up to 11 of England's biggest cities will happen on 15 November.
But the polls will take place only if voters approve the change in referendums scheduled for 3 May.
Communities minister Greg Clark said elected mayors would give "visible leadership" and increase prosperity.
The cities affected are Birmingham, Bristol, Bradford, Coventry, Leeds, Liverpool, Manchester, Newcastle, Nottingham, Sheffield and Wakefield.
Among other changes, mayors could get powers over rail and bus services, skills and apprenticeships and money to invest in high-speed broadband and other economic infrastructure.
The elections will happen on the same day as voters go to the polls to choose around 40 new police commissioners to oversee forces in England.
They had been expected to take place in May 2013, but the government announced last year that it was likely to bring the date forward.
'Full potential'
More than a dozen MPs could vie for either the mayoral or new police posts.
In Birmingham, Labour's Gisela Stuart is a declared mayoral candidate and her party colleague and former Defence Secretary, Bob Ainsworth, is being tipped to run in Coventry.
Speaking in Birmingham, Mr Clark said: "Elected mayors provide cities with the strong, visible leadership that can help them prosper nationally and internationally. This is an opportunity for each city to transform itself for the better.
"The world's great cities have mayors who lead for their city on the national and international stage, attracting investment and jobs. We believe that mayors can help English cities achieve their full potential too.
"This May, the people of our cities will have the chance to have their say. Now is the time to start weighing up what a mayor could do for your city."
The coalition agreement between the Conservatives and Liberal Democrats set out a commitment to have 12 elected mayors in the largest English cities outside London.
Leicester has already chosen a mayor.
London has had a directly elected mayor since 2000, with Hartlepool and Middlesbrough following suit.
It has been reported that Communities Secretary Eric Pickles is less than enthusiastic about the idea of devolving powers to city leaders.
But a sources close to the minister said: "Eric Pickles is a big fan of mayors. Any suggestion otherwise is wrong and ill-informed."