Parents should be free to smack - David Lammy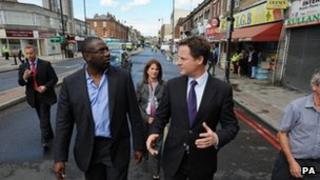 Parents should be allowed to smack their children without the fear of facing jail, a Labour MP has said.
Tottenham MP David Lammy told a Mumsnet webchat that politicians should spend less time telling parents what to do.
He said it was "too easy for middle class legislators to be far removed from the realities of the typical single mum".
Mild smacking is allowed but any which causes visible bruising, grazes, scratches, swellings or cuts is not.
Mr Lammy's constituency was the first to see violence and looting during last summer's riots.
'Not sovereign'
In a blog for Mumsnet ahead of a webchat on Tuesday, he said the parents of those involved needed support, not blame, from politicians.
He wrote: "Over the last few decades, Westminster has spent more time telling them what not to do as opposed to offering them practical support.
"The endless back and forth about smacking in the early 2000s exemplified this."
Asked to explain his comments about smacking by a Mumsnet user, Mr Lammy replied: "Parents in Tottenham continually raise with me the real pressures of raising children for example on the 15th floor of a tower block with knives, gangs and the dangers of violent crime just outside the window they say they no longer feel sovereign in their own homes and the ability to exercise their own judgement in relation to discipline and reasonable chastisement has been taken away from them.
"It's too easy for middle class legislators to be far removed from the realities of the typical single mum struggling with these issues and so in that context in the book [his book about the riots] I do say that we should return to the law as it existed for 150 years before it was changed in 2004."
The 2004 Children's Act removed the defence of "reasonable chastisement" for any punishment towards a child that leads to bruising, swelling, cuts, grazes or scratches. Any adult found guilty of breaking the law may face up to five years in jail.
Mild smacking which causes no more than temporary "reddening of the skin" is permitted, but critics have said the distinction between this and excessive force is unclear.
Family services
Mr Lammy was asked whether he meant England and Wales "should return to a time when it was still OK to smack a child in such a way that it left a mark".
He replied: "The legislation currently talks about 'a reddening of the skin' not completely sure how this applies to my own children!
"Previously the courts determined whether parents had used 'reasonable chastisement' or 'excessive force'. Unfortunately, some parents do abuse their children but we should be careful not to stigmatise the majority. There's a big difference between abuse and parenting."
The MP said in his blog he wanted social services to be "recast" as family services - "positive, universal and valued".
"In healthcare we each have a GP who acts as a gatekeeper to other specialists. The same ought to be true for the family.
"Parents could be directed towards relationship counselling and peer support. Where relationships break down, separating couples could be helped to sort out how best to care for their children."
In 2010, the Council of Europe said 20 European countries had introduced a complete ban on smacking and a further eight had committed to do so.
In October 2008, a cross-party group of MPs tried unsuccessfully to change the law to introduce such a ban.