Scottish independence: Lessons from Guernsey?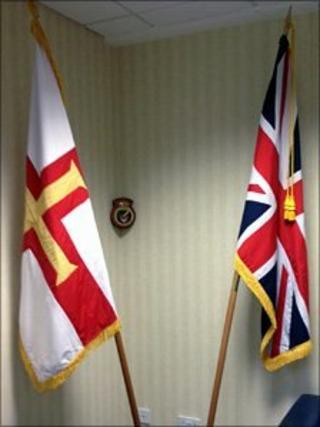 In the corner of the chief minister's office, there is a flag stand.
There are two flags. The Union Jack and Guernsey's Flag. It is the Cross of St George with a Norman Cross within it. It is as powerful a visual symbol of this island's curious relationship with the UK as you are likely to find.
Guernsey is a British Crown Dependency. In day-to-day terms, this means it runs itself, save for foreign affairs and defence.
But it retains sterling and it retains the Queen as the Head of State.
It is a country in miniature with a parliament to match, known as the States of Deliberation.
'Devo max'
Forty-seven members of parliament - or deputies - run the island's schools, health system, welfare state and - crucially - taxes.
There remains a constitutional connection to the British Crown - with the island's laws formally examined by the Ministry of Justice and the Privy Council at Westminster.
It is far from a perfect parallel but does Guernsey offer a model for Scotland, should people there be given the chance to opt for further devolution short of outright independence, known as "devo max"?
A number of senior officials here have told us privately that members of the Scottish government and others within the Scottish National Party have expressed a real interest in how Guernsey manages its relationship with London.
One of the figureheads of the island is Sir Geoffrey Rowland, Guernsey's 85th Bailiff. He is the presiding officer in the parliament, and the island's chief judge.
His office, with its commanding views over Guernsey's ancient royal fortress Castle Cornet, and beyond to the island of Herm, is sufficiently grandiose and opulent to make a secretary of state in the UK blush.
It is a short walk down the corridor to the parliamentary chamber - which doubles as a court room when the States of Deliberation is not sitting.
He says: "We are not a sovereign state. We are dependencies of the Crown and we have a tremendous amount of autonomy within that relationship.
"But Her Majesty's Government is responsible for our defence, which doesn't mean quite as much nowadays as it did once upon a time, with the umbrella of Nato and EU nations getting on together."
So could Guernsey be a model - albeit on a small scale - for Scotland's constitutional future?
"I wouldn't imagine that we would be a neat fit but I can understand why they want to explore the relationship," the Bailiff adds.
But many people here remind us of the history of Guernsey's quirky relationship with the UK.
"Devo max" might be a buzzword in 2012 among the political classes in London and Edinburgh but it has a certain vintage here. It can be traced back to 1204.
'Tax haven' strains
Plenty of people acknowledge there have always been disagreements and even strains in the relationship - most recently relating to Guernsey being labelled by many as a "tax haven".
Its low rates of tax have brought 40 banks to the island, and, some argue, deprived the UK exchequer of revenue. Politicians here insist the island is a net contributor to UK economic wealth.
The tax issue aside, there is a recognition at a senior level in Guernsey of the power relationship that exists between London and St Peter Port, and the consequent need to appear reasonable.
"With the Scottish debate I have noted there is a great deal of politicians there saying what we want to do and what we don't want to do.
"These relationships are bilateral, there are two parties to them and certainly in Guernsey we never lose sight of that fact," senior lawyer, Advocate St John Robilliard tells us.
"We have a very large partner over there, some 70 miles away over the water. We can't simply say that this is simply a shopping list of what we want, without reaching agreement on that."
Equally, Advocate Robilliard acknowledges that a plausible case can be made for Guernsey to go its own way entirely, severing its link with London, but says that socially and culturally, and therefore politically, it is a non-starter.
So what advice would Guernsey's senior figures have for the First Minister of Scotland, Alex Salmond? Charles Parkinson, the island's Treasury Minister, fears "devo max" wouldn't work north of the border.
"I think he needs to think very carefully about the risks that might be posed, if Scotland remains in monetary union with England and Wales, but has fiscal sovereignty," he argues.
"In that situation, as we have seen in the eurozone, if it turned out that the Scottish economy was less productive than the economy of England and Wales, and if there was no mechanism for fiscal transfers from England and Wales to Scotland, Scotland could find itself in the position that weaker countries in the eurozone now find themselves in. That would be uncomfortable."
Scotland may be barely out of the service station on the road to an independence referendum, and the differences between a channel island and Scotland are vast, but still, it shouldn't be a surprise that people here tell us that Edinburgh's political elite are already giving this small island off the coast of France more than a second look.
BBC Radio 5 live's Chris Mason and Chris Brindley are spending the week visiting Guernsey, Corby, the Scottish Borders, Aberdeen and Faslane looking at some of the big questions surrounding Scottish independence.