Government 'overestimated' back-to-work scheme numbers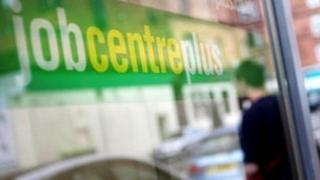 The government has overestimated the number of people who will be helped back into employment by its work programme in Britain, a report says.
The National Audit Office said 26% of over-25s would get jobs, compared with the official estimate of 40%.
It also said there was a risk some programme providers could "cut corners to stay in profit" by ignoring harder-to-reach people.
The employment minister said he was "really disappointed" at the report.
The work programme has been running in England, Scotland and Wales since June 2011, and will pay private sector bodies and charities by results if they are able to get the unemployed back into work.
The Department for Work and Pensions (DWP) estimates it will cost between £3bn and £5bn over the next five years and could help 3.3 million people.
'Financial difficulty'
The NAO's report did praise the work programme, saying the DWP had made "a significant effort to learn the lessons of previous welfare-to-work programmes".
But it warned that the speed at which it was being introduced had led to risks.
The computer system needed to ensure that people who find work stop claiming benefits will not be fully functional until the end of March, it said, leading to an increased risk of fraud and error in the meantime.
The NAO also said there was a risk that some of the programme providers could get into "serious financial difficulty" while trying to meet their ambitious targets.
It said fewer people than expected from the "harder to help" category - those previously on incapacity benefit - were being referred for work than those on Jobseeker's allowance.
And it noted it had cost £63 million to cancel previous welfare-to-work contracts, and said that no alternatives to the work programme were considered, nor had it been tested through pilot schemes.
Amyas Morse, head of the NAO, said it was too early to judge the programme's success.
But he added: "The department has set providers stretching performance targets and it needs to ensure that they do not cut corners to stay in profit, such as targeting easy-to-reach people, reducing service levels or treating sub-contractors unfairly."
Margaret Hodge, chairman of the Commons public accounts committee, said it was "shocking that the business case and essential justification for the work programme were devised after the key decisions had already been made, and that no alternatives were considered".
She said: "Implementing the programme quickly should not come at the expense of securing value for money."
'Scathing'
Employment Minister Chris Grayling said payment by results was "a totally new approach" and its success could not "be assessed in the same old ways".
"I'm really disappointed that the NAO is producing a report which is partially based on guesswork, when it's private companies and not taxpayers who are carrying the risks.
"Unlike the last government's welfare to work schemes, we only pay when companies succeed in getting the long-term unemployed into sustained employment."
For Labour, shadow employment minister Stephen Timms MP called the report "scathing".
"The secretary of state now has to answer real questions on the implementation of the programme," he said.
"What data is he asking providers to collect to prove that everyone is getting the help they need? What data did he use to make assumptions about performance?"