Sunday Times drops Chris Huhne emails legal challenge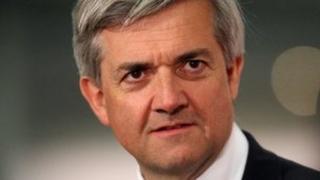 The Sunday Times has dropped its challenge to a court ruling ordering it to hand over emails to police relating to speeding claims against Chris Huhne.
Essex Police are investigating claims the energy secretary asked his then wife Vicky Pryce to take speeding penalty points on his behalf.
The newspaper had resisted demands to produce emails, reportedly between Ms Pryce and its political editor.
Lib Dem MP Mr Huhne says the allegations are "simply incorrect".
Lawyers for the newspaper said the production order would be complied with in the near future.
Evidence file
The case relates to a speeding incident in March 2003 after which Mr Huhne - then an MEP - is alleged to have asked Ms Pryce to accept a three-point penalty on his behalf.
Police delivered an initial evidence file to the Crown Prosecution Service in July, but the CPS has not yet made a decision on whether Mr Huhne should be charged or not.
Director of Public Prosecutions Keir Starmer said in November the CPS was waiting for the Sunday Times court proceedings to be resolved.
The newspaper had announced it would seek a judicial review of a crown court ruling made last October ordering it to hand over evidence.
'Draw a line'
But at the start of Friday's High Court hearing, Ben Silverstone, lawyer for Times Newspapers, told judges the publishers had agreed to drop their application.
Andrew Edis QC, appearing for Essex Police and the CPS, said the application had been "misconceived".
Following the hearing, a CPS spokesman said: "We are pleased that the appeal has been withdrawn. As soon as we have received the evidence we will consider it carefully and will reach a decision as soon as possible."
Mr Huhne has said he welcomes the police investigation "as it will draw a line under the matter".
He and Ms Pryce divorced in January 2011.
David Cameron's official spokeswoman said on Friday that the prime minister had "confidence in the energy secretary".