William Hague pushes for stronger Latin America ties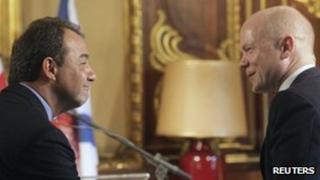 The UK is launching its strongest diplomatic offensive in Latin America for two centuries, the foreign secretary has said as he visits Brazil.
William Hague is the first UK foreign secretary to visit for six years.
He said the UK welcomed Brazil's "growing impact on the economic and political landscape of the world".
It comes amid a diplomatic row between Argentina and Britain, after the UK PM accused it of "colonialism" over its stance on the Falkland Islands.
Meanwhile, it has been announced Prince Harry will visit Brazil ahead of the London Olympics and the Diamond Jubilee, to promote ties between the two countries.
Growing impact
Britain is aiming to forge strong diplomatic and trade ties with Brazil and other Latin American nations, Mr Hague said on Thursday.
He said the opening of a British consulate in the north-eastern Brazilian city of Recife, and the reopening of an embassy in the Central American nation of El Salvador represented the UK's strongest diplomatic offensive in Latin America in two centuries.
"The days of our diplomatic retreat from your region are over," Mr Hague told reporters at a joint news conference with Rio de Janeiro's governor, Sergio Cabral.
He said the new push reflected the changing world order, with developing powers like Brazil taking on ever-greater importance.
"We recognise your country's growing impact on the economic and political landscape of the world," Mr Hague said.
"This is change that Britain does not fear, but that we welcome and embrace."
Meanwhile, David Cameron sparked a furious response after he accused Argentina of "colonialism" for continuing to claim sovereignty over the Falkland Islands.
He told Parliament the islands would stay British for as long as the islanders wanted.
War anniversary
In response, Argentine Foreign Minister Hector Timerman said Great Britain was a country "synonymous with colonialism".
The sharp exchange of words came ahead of the 30th anniversary of the Falklands War, which was prompted by an Argentine invasion of the islands, which it refers to as Las Malvinas.
The BBC's Paulo Cabral, in Brazil, said Mr Hague's visit had highlighted divergence on important global issues between the British and Brazilian government, including claims over the Falkland Islands.
Mr Hague criticised Brazil's decision to abide by Argentina's demand of not allowing boats flying the Falkland Islands flag to dock at ports in the Mercosur trade bloc.
"Clearly we don't agree with that decision by Mercosur, we don't agree with anything that is designed to put pressure on a community which has its own right to self-determination," he said.