Newspaper owner urges look at privacy law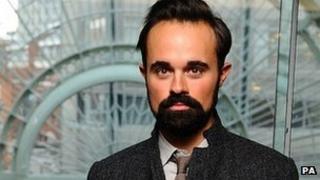 The owner of the Independent newspaper has said Parliament should look at introducing privacy laws.
Evgeny Lebedev told MPs and peers a legal definition of the "public interest" would guide the media and avoid people being "hounded".
But he admitted it might be impossible to achieve an all-purpose definition.
Mr Lebedev also criticised fellow proprietors who failed to notice that journalists were "getting up to" illegal activities, like phone hacking.
As he gave evidence to the joint committee on privacy and injunctions, made up of peers and MPs, he praised the UK newspaper industry, saying it was vital to the functioning of democracy.
Dark alley
But Mr Lebedev, who also owns the London Evening Standard, had criticisms for some of the tabloid press, especially the papparazzi.
He argued that "having 30 photographers chasing a woman down a dark alley" for a story of little general importance was "not appropriate".
He said: "I think the law is clearly not working... There's a case for Parliament looking at this, if we have a clear definition of what's in the public interest."
Mr Lebedev, who moved to the UK from Russia as a boy, also said: "I still want freedom of the press... because I've seen what happens in my own country.
"All the celebrity stuff is out there [in the public domain] but what's not out there is holding the authorities to account...
"What should be looked at is a way of protecting people's privacy and not having people hounded by photographers, or having celebrities, or politicians, or ordinary people hounded."
But he added: "Newspapers have to be allowed to get away if there's a legitimate investigation in the public interest."
Investigative reporting
Mr Lebedev said: "I haven't got a definite answer on whether there's a need for a law or not. If it can be done in the framework of a regulator, that seems a more definite way to go forward...
"If it can't be defined, the public interest, then any argument for having a statute doesn't work."
Opponents of a privacy law say it would stifle investigative reporting and monitoring of wrongdoing.
They also suggest that, with the rise of "super-injunctions" aimed at preventing the publication of embarrassing stories, the rich and powerful are already able to buy a certain amount of privacy not available to others.
But others argued that the current Press Complaints Commission - overseen in part by newspaper editors - is toothless as a regulator and needs to be strengthened or replaced.
'Take responsibility'
During the hearing, Chris Blackhurst, the editor of Mr Lebedev's Independent, disagreed with his boss over the need for a privacy law. But he suggested that all papers should be made to join the PCC or its successor.
This follows the Daily and Sunday Express and the Daily and Sunday Star leaving the organisation.
Mr Blackhurst said: "I don't think that option should be allowed. It destroys public trust [in newspapers]... We have to bring everybody to the table."
Questioned about the illegal activities of some journalists, including those at the now-defunct News of the World, such as phone hacking, Mr Lebedev, said of his rival proprietors: "Overall they have to take responsibility.
"We have seen in recent months... various proprietors who are claiming that they have no involvement - and I can't quite see the situation where there's a Chinese wall erected between the proprietor and the newsroom and the proprietor has no idea what's going on there."
The joint committee - made up of 13 MPs and 13 peers - is looking at how how best to strike the balance between privacy and freedom of expression.
It is expected to publish a report at the end of next month.