Committee to re-examine Sir Fred Goodwin's knighthood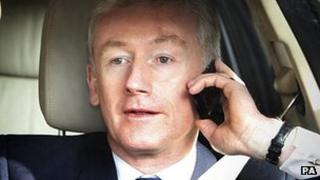 A committee of civil servants will consider whether Sir Fred Goodwin, the former boss of Royal Bank of Scotland, should be stripped of his knighthood, the prime minister has confirmed.
David Cameron said it was "right" for the Honours Forfeiture Committee to consider the matter when it next meets.
In the past, honours have only been taken away from people convicted of a serious crime or struck off.
Sir Fred was honoured in 2004 for services to the banking industry.
But there has been a growing clamour for him to be stripped of the honour in the light of the bank's near-collapse in 2008, the thousands of jobs lost at RBS and in the banking industry since then and its impact on the wider economy.
'Proper process'
A growing number of Conservative MPs are calling for the knighthood to be rescinded while Labour has suggested it would not oppose the move.
Asked about the issue on Thursday, Mr Cameron said it was right "there is again a proper process to be followed for something of this order".
"There is a forfeiture committee in terms of honours that exists and that will now examine this issue. I thinks it is right that it does so. It's right there's a proper process.
"They should do the work rather than the prime minister himself."
The prime minister said the committee should take into account a critical report by the Financial Services Authority last month on the circumstances leading up to the bank's near-collapse and multi-billion pound taxpayer rescue.
The regulator said poor decisions by Sir Fred and other senior executives were a major factor in the bank's troubles.
The report, Mr Cameron said, was "material and important because of what it says about the failures at RBS and what went wrong and who was responsible and all the rest of it".
It is not clear when the Forfeiture Committee - whose members include the Cabinet Secretary, the top civil servant at the Home Office, the top lawyer at the Treasury and the top official in the Scottish government - will meet.
The Queen has the sole authority to rescind a knighthood, taking government advice into account.