Recall plan for MPs 'deeply flawed'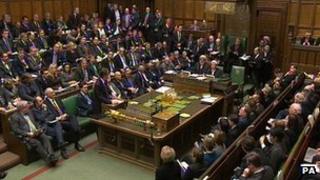 Plans to trigger by-elections for MPs who commit serious wrongdoing are "deeply flawed", it has been claimed.
Two Conservative MPs told a Commons committee that they supported the idea of more accountability between elections and empowering constituents.
But Douglas Carswell said the "recall" plan gave "Westminster grandees", not the public, the power to decide what type of offences should be covered.
And Zac Goldsmith said the "worst MP in the world" could still escape censure.
Calls for tougher sanctions for MPs arose after the 2009 expenses scandal and the Conservatives, Labour and Lib Dems all backed some form of recall proposal in their 2010 election manifestos.
Draft plans published in December would see MPs deemed guilty of serious wrongdoing having to face a by-election, if 10% of their constituents signed a petition demanding one.
'Fearing democracy'
The petition process would be triggered either if an MP was sent to jail for a year or less or the Commons decided an MP's behaviour warranted it.
Mr Goldsmith, MP for Richmond Park, told the Commons constitutional reform committee that he had supported the idea of recall since entering national politics as, if it was framed properly, it could "electrify politics" and end the concept of "safe seats".
But he said he had serious reservations about the government's proposals, which would not extend democracy and were "not recall at all".
The proposals would give a committee of MPs the power to define the range of offences for which recall could apply and this, he suggested, could lead to strange and unfair outcomes.
"You could be the world's worst ever MP without breaking a single thing in the (MPs) code (of conduct) because it relates to financial things.
"Or vice-versa, you could by accident break one of those codes - not registering a bottle of wine given to you by a friendly constituent for example - which could be a genuine error.
"But that might be an excuse for the committee to qualify you for recall because you might be a unpleasant character and not popular in the House."
The MP suggested his party's position on the issue had changed between opposition and government.
He added: "When you are fighting an election campaign, it is an attractive thing to offer decentralisation, localism and democracy. But when it comes to the crunch most governments - and ours unfortunately falls into this category - reach a point where they fear the impact of democracy."
'Sir Humphrey'
Mr Carswell, MP for Clacton, said MPs had "nothing to fear" from the judgement of their constituents and suggested the recall proposals were the work of Whitehall mandarins.
"Sir Humphrey Appleby came up with a system that Sir Humphrey Appleby would perhaps like, which is to keep the people at bay and ministers seem to have gone along with it."
While a proper recall system could help reconnect MPs and the public, the proposals were "180 degrees wrong", he suggested.
"I think it is deeply and deliberately flawed. Instead of doing what recall should do, which is make all of us more outwardly accountable to the people, I think it will make us inwardly accountable to Westminster grandees."
Mr Carswell said there should be three stages to the recall process, with a public petition followed by a recall ballot in which more than 50% of those taking part would have to demand a by-election for one to happen.
'Restrictive'
Campaign group Unlock Democracy said the process being proposed had nothing in common with any system currently used around the world and was "not worth the paper it is written on".
"This bill, in its current form, is actually a disciplinary code for MPs," its director Peter Facey said.
"It one of the most restrictive forms of recall I have seen, not only in terms of the issues you can be recalled for but the ways in which you can sign the petition."
At the moment, MPs convicted of an offence carrying a custodial sentence of more than a year are automatically disqualified from office and have to resign. However this does not apply to anyone given sentences of a year or less who, theoretically, can remain in Parliament.
In the event of an MP committing a serious offence but not receiving a jail term, it would then be up to the House of Commons to decide, in a vote of all MPs, whether to trigger the petition process.
MPs have called for safeguards in any process to ensure people are not forced out unfairly or for political reasons.