Ed Miliband: Surcharge culture is fleecing customers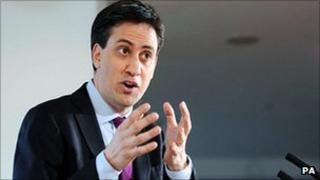 Labour leader Ed Miliband has urged David Cameron to tackle a culture of "fleecing" customers by train and energy firms, banks and airlines.
He said a "surcharge culture" had taken hold which meant firms took advantage of those who did not shop around.
Mr Miliband said the PM - who is making a speech on "moral capitalism" - should be judged "by deeds, not words".
He criticised above-inflation train fares and hidden charges on a visit to the offices of consumer body Which?.
The Labour leader returned to a theme from his party conference speech last year - criticising "powerful vested interests" for taking advantage of consumers.
'Exorbitant' charges
He targeted banks which levy excessive overdraft charges and backed a Which? campaign for the new regulator, the Financial Conduct Authority, to be able to stop "exorbitant" bank charges.
"Banks should not be able to get away with fleecing their customers."
He also criticised train firms which raise prices on the most popular routes - but drop them on routes "people don't use", so they stay within rules of an overall "inflation plus 1%" cap.
Mr Miliband said car parking charges at train stations should be capped to cut costs to commuters, energy companies should guarantee that over-75s get the lowest tariff on their bills, and low-cost airlines should be "transparent" about their hidden costs. He also criticised high administration costs of pensions.
The Labour leader said ministers should show that they understood the limits to competition - and the need for effective legislation.
"Many people feel they are being ripped off in their everyday lives," he said.
"It's what I call the surcharge culture, which is a culture where companies can take advantage of consumers who either can't shop around, who don't have the information to shop around or are powerless in the face of the vested interests they are facing."
Takeover rules
He said both Labour and Conservative governments had not stood up enough to "vested interests" which were taking customers "for a ride".
The prime minister had yet to show he was serious about tackling "irresponsible capitalism", Mr Miliband said.
"The challenge for David Cameron is to be judged by deeds, not words," he said.
In an article for the Financial Times on Thursday, he also said tighter rules on takeovers were needed to defend the long-term interests of British business.
He said he wanted investors who bought shares in a company after a takeover approach to be banned from voting on its sale. And he said he would also like to see the threshold for takeovers raised so that two-thirds of shareholders would have to approve the move.
'Moral capitalism'
"In 2010 we witnessed the unedifying spectacle of Cadbury being purchased by Kraft as investors gambled through hedge funds that the bid would succeed," he wrote.
"Some argue that the government should just stay out of the way.
"But the rules that govern the system shape outcomes and it is no accident that too many takeovers are decided on the basis of short-term decision-making by people who never had any interest in the long-term success of the company concerned."
David Cameron is to set out his vision for "moral capitalism" in a speech on the economy later.
He is expected to suggest the need for greater transparency to help stem corporate excess and put forward proposals to make it easier to set up co-operatives.
The address builds on ideas Mr Cameron set out three years ago in a speech to the world economic forum in Davos, Switzerland, when he said governments must "stand up to business when the things that people value are at risk".