Ed Miliband naive on pay, says Unison boss Dave Prentis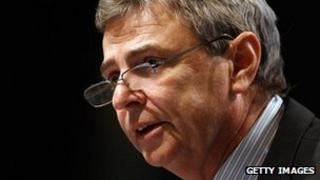 A third leader of a major Labour-supporting union has attacked Ed Miliband over his support for a public sector pay cap - accusing him of "breathtaking naivety".
Unison general secretary Dave Prentis said he was playing "cheap politics" and had "fallen into a Tory trap".
It follows attacks on Mr Miliband by the leaders of the GMB and Unite.
But the Labour leader has defended the decision over public pay, saying it is "tough" if others disagree.
In 2010, the Conservative-Liberal Democrat coalition froze public sector pay for two years for those earning above £21,000.
Last November, it said rises would be capped at 1% for each of the two years to 2015.
And Labour's leadership announced at the weekend that this public sector pay restraint would continue if it regained power, because of the difficult economic situation.
'Struggling'
But, in a statement, Mr Prentis, who supported Mr Miliband when he ran for leader in 2010, said: "Our members needed hope and a reason to vote Labour. They have been snatched away.
"In the past year Labour has struggled to get its message across to show that there is an alternative to the coalition's savage cuts in our public services and the attack on the living standards of millions of ordinary working people.
"We were told by Ed Miliband to be patient, to prepare for the long haul and that their economic plans needed to be cautious. And we hoped that, as the economy worsened, Labour's voice would get louder, more forceful and that Ed Miliband would step up and speak out against the tearing apart of communities and families as they face insecurity and uncertainty."
He added: "But at a time when our members needed him most, he panicked and fell into the trap, ditching overnight a policy that challenged the coalition. He has decided to embrace a Tory pay policy that hits millions of public service workers, particularly low-paid women - care workers, hospital cleaners and dinner ladies, who have already had two years of pay freezes and job losses.
"Ed Miliband's naivety is breathtaking and his ill-thought-through comments will have unintended consequences. At a time when hardworking families are struggling to make ends meet, the very party which they look to to stand by them has chosen instead to play cheap politics with their lives."
Mr Prentis is the third leader of a major Labour-supporting union to speak out this week.
'Don't seek fight'
On Tuesday, Len McCluskey, leader of Unite - the UK's biggest union and Labour's largest donor - told the Guardian newspaper the shift on pay policy would lead to the party's "destruction".
Afterwards, a spokesman for the GMB union told the BBC that its general secretary, Paul Kenny, had written to senior Labour officials saying that the decision to back the public sector pay cap was a "most serious mistake".
Between July and September last year, Unite was Labour's largest donor, giving £1,493,317.
Unison provided the second most, with £731,299, and the GMB was the fourth-largest donor, giving £331,859.
Mr Miliband said on Tuesday: "I don't seek a fight within my own party, but I do stand up for what's right.
"And if people don't like it, I'm afraid that's tough because I'm going to take the responsible path, the right path and the path which will show to the public that Labour is serious about the economic reality we will face if we come into government after the next general election."
Unions founded Labour and supply around 90% of the party's funds. Mr Miliband narrowly won the Labour leadership contest in September 2010 ahead of his brother, David, after success with trade union members and affiliated societies pushed him into first place.