MPs 'shocked' by border check relaxations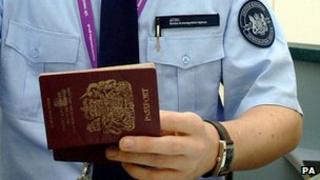 A "highly troubling" breakdown of communication between officials led to UK border controls being relaxed too often last year, MPs have said.
The Commons Home Affairs Committee said it was "shocked" at the number of times checks had been waived when ports and airports became too busy.
It blamed the Home Office for a "lack of supervision" of senior staff.
Labour called the committee's report "damning"; the government said it would respond "in due course".
Last autumn it was revealed that a pilot scheme to reduce passport checks on some citizens of EU countries had been used at 28 ports and airports.
Home Secretary Theresa May said she had authorised the relaxation of some checks on children from the European Economic Area, and some extra checks on EEA adults under "limited circumstances".
But she said then Border Force head Brodie Clark had allowed officials to go further, relaxing fingerprint checks on non-EEA nationals, without ministerial approval.
'Fragmented'
It led to Mr Clark resigning after a 40-year career in the Home Office, saying his position had been made "untenable".
He admitted using guidance that said fingerprint checks could be suspended during health and safety emergencies - such as a large build-up of passengers in the arrivals hall or a fire.
Mr Clark said he had received no ministerial authorisation but also accused Home Secretary Theresa May of blaming him for the problems for "political convenience" and denied being a "rogue officer".
In its report, the committee said it was "very concerned" about the overuse of guidance issued five years ago on the Home Office Warnings Index (HOWI), a watch-list of suspected terrorists.
The MPs said they were "shocked" it had been invoked at least 50 times between May and July 2011 and a further seven times between August and October 2011.
The report said the guidance "might be being used inappropriately at local level as a management tool instead of an emergency provision".
It added: "The chain of communication from ministers to senior management to front-line staff of the UK Border Agency is a long and convoluted one, and it seems to have become seriously fragmented."
The report said that, however the overuse of the guidance came about, "a lack of supervision of senior staff at the UK Border Agency allowed the situation to continue".
However, the committee insisted that a pilot scheme giving border staff the freedom to make risk-based checks at the UK's ports "appears to have been a success" and "commends the effort to make a more targeted use of staff in this period of staff reductions".
'Fit for purpose'
Keith Vaz, the Labour MP who chairs the committee, said its inquiry had exposed serious failings at the UKBA.
"We were able to conclude there was a lack of communication between the different arms of the UKBA, there was a lack of supervision of senior staff at the agency which allowed this extraordinary situation to continue," he told BBC Radio 4's Today programme.
"What this agency desperately needs is a root and branch reform. This is the only way that we are going to make this agency... fit for purpose."
Mr Vaz also criticised the government for not giving his committee access to what he said were "key" documents about the affair.
He said it wanted to see e-mails between Mr Clark and Mrs May, minutes of a UK Border Agency meeting at which the issue was discussed and the details of historic guidelines allowing border controls to be suspended in certain circumstances.
"We would like to have had those documents. We would still like to see them. We have recommended that the Home Office place them in the library of the House of Commons so that others can look at it in the light of the recommendations of making this agency better."
Shadow immigration minister Chris Bryant said the "damning" report showed "senior officials were aware for some time of the suspension of border checks".
He added: "The bottom line is that during last summer's border chaos the number of people stopped at the border and turned away went down by 12% compared to the previous summer. Nobody could seriously call that a success."
A UK Border Agency spokesman said: "We thank the committee for its report and will respond in due course."