Thames Estuary airport plans to be examined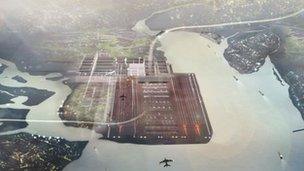 The government is to hold a formal consultation on UK aviation - including controversial plans for a new airport in the Thames Estuary.
The study, to begin in March, will look at options for "maintaining the UK's aviation hub status".
Downing Street said no decisions had been made - London Mayor Boris Johnson backs the Thames airport idea.
David Cameron has ruled out expanding Heathrow but his deputy Nick Clegg is said to be opposed to the estuary idea.
Labour said the coalition was in a "complete mess" over aviation policy.
The airport would be built partly on reclaimed land and could be on either an island or a peninsula.
But concerns have been raised about damage to the environment.
Campaigners say the site, which is renowned for its populations of wintering birds and is an important breeding ground for avocets and marsh harriers in summer, must be protected.
In his Autumn Statement, Chancellor George Osborne did not rule out a new hub and this was seen by many as a sign that the government was warming to the scheme.
David Cameron is said to be supportive of Mr Johnson's alternative to expanding Heathrow in west London but will await the outcome of the consultation. The Lib Dems oppose airport expansion in south east England.
Passenger demand for London's airports is forecast to increase from 140 million a year in 2010 to 400 million passengers a year by 2050, according to a previous report by the Greater London Authority.
Colin Matthews, chief executive of airport operator BAA, which runs Heathrow, said he was pleased the government was recognising the need for more airport capacity.
But he warned that London "can't have two hubs" and a new airport would inevitably mean Heathrow getting much smaller: "The consequences of closing Heathrow wouldn't just be big for my company.
"It would be big for 100,000 jobs in this part of London. It's a huge issue economically, a huge issue politically."
Mr Johnson - who is running for a second term as mayor in May - told BBC Radio 4's Today programme there would be plenty of sovereign wealth funds willing to invest in the project.
"The difficulty would not be the financing of the airport per se... the difficulty obviously would be in the infrastructure, connectivity between the airport and central London, and that's why the consultation is essential," he said.
"We can't go on expecting Britain to compete with France, Germany and other European countries when we simply can't supply the flights to these growth destinations - China, Latin America.
"We are being badly left behind."
But other candidates for London mayor have all expressed their opposition to the idea.
Labour's Ken Livingstone said: "An airport in the Thames threatens a huge increase in noise, congestion and pollution for millions of people in the east and south east of London, especially Bromley, Bexley, Havering and Barking. It also threatens hundreds of thousands of the jobs in west London who rely on Heathrow."
Lib Dem hopeful Brian Paddick said Heathrow would be "closed down" if the estuary airport was built, causing "devastation" in the area.
"It's a complete fantasy, all the local authorities and the airlines are against the idea, it's just a cynical move by the Tories to try to make the mayor look credible."
And the Green Party's Jenny Jones said airport capacity should not be expanded at all in the south east: "If we were to end unnecessary flights to short haul destinations, space would be freed up for essential long haul flights and there would be no need to build another airport."
The RSPB, Medway Council and Kent County Council have opposed the Thames Estuary idea, saying it is "undeliverable, unaffordable and unnecessary".
The GMB union's civil aviation industry national officer, Mick Rix, also said the estuary plan was "plain daft" and called on all parties to look again at the possibility of a third runway at Heathrow.
Friends of the Earth's executive director Andy Atkins said a new airport in the Thames Estuary "would have a devastating impact on local communities and the environment".
In May 2010 plans for a third runway and sixth terminal at Heathrow were scrapped when the coalition government took office.
BAA withdrew its plans for a second runway at Stansted at the same time and any expansion of Gatwick before 2019 has also been ruled out.
A Department for Transport spokesman said "no decisions have been taken", adding: "The government will consult on a sustainable framework for UK aviation this spring, at which time we will set out our long-term plans for the sector."
The idea for an airport somewhere in the Thames Estuary was first conceived in 1943, and many alternative locations and schemes have been proposed.
One scheme would see runways built on artificial islands in the estuary and connected via rail shuttle links to terminals on the mainland.
Another recent, much larger concept devised by architect Sir Norman Foster involves an integrated air and high-speed rail hub built on reclaimed land near Grain in northern Kent.
The high speed rail link to London would traverse the river by a new barrier crossing, which would offer greater flood protection and generate power through tidal energy.