Portcullis logo 'seen as gate to keep public out'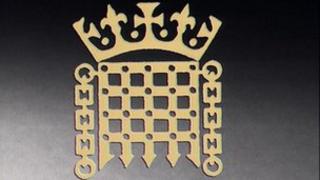 Parliament's portcullis logo is seen by the public "as a gate to keep them out", an adviser to the Speaker says.
Professor Jonathan Drori, chairman of the Speaker's Advisory Council on Public Engagement, criticised the design, used on stationery, chairs, stone and woodwork across Westminster.
He said Parliament must make more effort to be "welcoming" to visitors.
But he said some MPs were unwilling because they "just don't like members of the public being around the place".
Prof Drori was giving evidence to the Commons Administration Committee which is holding an inquiry into visitor access to Westminster.
According to its website, the Speaker's Advisory Council on Public Engagement provides informal, independent advice to House of Commons Speaker John Bercow.
'Parliament is theirs'
Prof Drori told the MPs that Parliament could be "a very intimidating place" - an atmosphere created by everything from the architecture and security to the language and dress of staff.
He said the portcullis logo was "hardly a welcoming one", adding: "I know it has a great history but it's seen by the public as a gate to keep people out."
Prof Drori said access was "crucial to democracy" and facilitating that "doesn't meant a lack of respect for heritage and status".
But he added: "People need to see that Parliament is theirs, that it is of them and for them."
He suggested a sign over the door of Portcullis House - where many MPs have their offices - saying "Welcome to your Parliament", and said a long-talked-about visitor education centre should be constructed.
'Disney on the Thames'
Prof Drori's ideas were not well received by all members of the committee.
Labour MP Rosie Cooper said it sounded like the advisory council was trying to create "Disney on the Thames" and Dr Drori's comments about the portcullis logo were "astounding".
Conservative Dr Phillip Lee said Parliament was already like "a school playground" at times because of too many visits by groups of children.
He said the design of the buildings and security concerns made greater access impractical, and there were already plenty of ways to see what was happening in Westminster via television, online and radio.
But Prof Drori compared that with suggesting that watching a play on video was just as good as going to the theatre.
"They [the public] pay your salary," he said. "It is a matter of attitude. You should be more open and transparent."
He added: "I think there's an underlying issue that some people just don't like members of the public being around the place."