Israel criticises Nick Clegg comments on settlement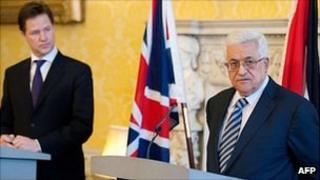 Israel has accused UK Deputy Prime Minister Nick Clegg of "gratuitous bashing" after he said the country was doing "immense damage" to the Middle East peace process.
Mr Clegg said continuing with "illegal" settlement-building amounted to "an act of deliberate vandalism" that threatened a two-state solution.
He spoke at a press conference with Palestinian president Mahmoud Abbas.
Mr Abbas said Mr Clegg's strong words were "exactly what we wanted to hear" .
The Palestinian leader was in Downing Street for talks with senior government figures, including Prime Minister David Cameron. He is visiting a number of European countries in the coming days.
'Condemn'
Mr Clegg told reporters there was "no stronger supporter of Israel than myself as a beacon of democracy in the region".
"But the continued existence of illegal settlements risks making facts on the ground such that a two-state solution becomes unviable," he said.
"That, in turn, will do absolutely nothing to safeguard the security of Israel itself or of Israeli citizens. That is why I condemn the continued illegal settlement activity in the strongest possible terms."
He went on: "Once you've placed physical facts on the ground that make it impossible to deliver something that everyone has for years agreed is the ultimate destination then you do immense damage, it is an act of deliberate vandalism to the basic premise on which negotiations have taken place for years and years and years."
Israel has so far refused to bow to international pressure, including from the United Nations, to halt the construction of settlements.
Speaking through a translator following Mr Clegg's comments, Mr Abbas said: "This is exactly what we wanted to hear officially from the government of the United Kingdom."
But Israeli Foreign Ministry spokesman Yigal Palmor said: "It would be much better to contribute to peace by encouraging the fragile revival of Israeli-Palestinian talks rather than engaging in gratuitous bashing."
As he met the prime minister later on Monday, Mr Abbas said that "of course, time is of the essence" because of the settlement issue, but the UK's "very balanced" relationship in the Middle East meant it could play an important part in finding a solution.
'Credibility'
Mr Cameron said the UK would do everything it could to help.
"We think that time, in some ways, is running out for the two-state solution unless we can push forwards now because otherwise the facts on the ground will make it more and more difficult, which is why the settlement issue remains so important."
A Downing St spokesman said later that discussions between Mr Cameron and Mr Abbas had focused on ways to seize the opportunity of new talks, hosted by Jordan, to make some progress in the Middle East.
"President Abbas and the prime minister discussed the need for both Israel and the Palestinians to bring credibility to the negotiations by tabling serious and concrete proposals this month on the immediate issues of security and borders," he said.
"The prime minister briefed President Abbas on his conversation with [Israeli] Prime Minister Netanyahu earlier this month, including his view that Israeli settlement building is an obstacle to peace."