Energy firms must pass on smart meter savings, say MPs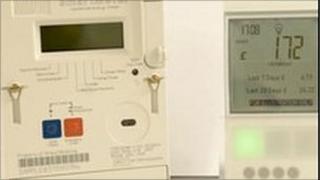 The government must ensure that energy companies pass multi-billion-pound savings made by installing "smart" meters on to customers, MPs have said.
The £11.7bn scheme will provide 30 million UK homes with exact details of how much gas and electricity they use.
But the public accounts committee said it was "far from certain" consumers would benefit and urged ministers to oversee the roll-out more closely.
The government said it was already closely monitoring firms.
Smart meters show exactly how much gas and electricity is being used, rather than customers receiving monthly estimated bills - which can lead to overpayments.
Energy companies are set to install them in homes and businesses between 2014 and 2019.
The government says the meters will increase off-peak tariff usage and increase competition between providers, saving £18.1bn in bills.
'Inconclusive'
But the MPs' report warns: "No transparent mechanism presently exists for ensuring savings to the supplier are passed on to consumers, and the track record of energy companies to date does not inspire confidence that this will happen."
The report comes after consumer campaign group Which? called on the government to postpone the scheme until it had reviewed its approach, saying there was a danger the situation could become a "fiasco".
The committee's chairman, Labour MP Margaret Hodge, said: "Consumers will benefit from smart meters only if they understand the opportunity to reduce their energy bills and change their behaviour.
"So far the evidence on whether they will do so has been inconclusive. Otherwise, the only people who will benefit are the energy suppliers."
But energy minister Charles Hendry said: "The last thing we need is more dither and delay. We accept that in the past government had been too hands-off and that is exactly why we have brought the programme in-house.
"We are determined to take the scheme forward, with ministerial oversight and safeguards for consumers built in."
Gearoid Lane, managing director of British Gas New Markets, said: "Our customers have told us loud and clear about how they are benefiting from smart meters.
"Smart meters put an end to the frustration of estimated bills, give customers more direct control over their energy use and open the door to new energy saving technologies. Any slowdown of this crucial investment will frustrate energy customers."