Bill for ministers' cars 'cut by 44%' under coalition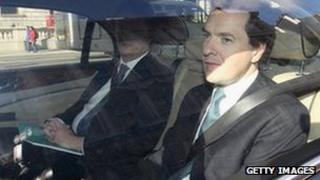 The government says it has cut spending on ministerial cars by 44%.
In 2009-10 - Labour's final year in office - £6.7m was spent on cars, but in 2010-11, when the coalition came to power, the figure was down to £3.8m.
The number of ministers with an allocated car and driver has been cut from 78 to 13, while non-cabinet ministers have access to a car pool.
Critics say the savings made on ministerial cars are being offset in other ways, such as higher taxi costs.
There have also been reports that large sums of money have been spent to pay off unwanted drivers.
David Cameron announced plans to shrink the bill for ministerial cars shortly after coming to office in May 2010.
He said it was part of efforts to save money and restore trust in politics following the expenses scandal.
Cabinet Office
The latest figures for the Government Car and Despatch Agency - for the 2010-11 financial year - include £700,000 which fell under the previous Labour administration.
It is understood they do not include the cost of cars for the prime minister and his Lib Dem deputy Nick Clegg.
They show that no government department now has more than one full-time allocated car.
No ministers at the Cabinet Office - responsible for supporting Mr Cameron and Mr Clegg - have dedicated vehicles, whereas before the general election, four did.
Ministers without their own cars can use pool vehicles for official business and travelling from home to the office "within reasonable distance of London".
All government members are encouraged to use public transport where possible.
A Department for Transport spokeswoman said: "We have reduced the amount departments spend on the ministerial car service by nearly half compared to the year before.
"We will continue to look at where we can make savings on ministerial cars, although ministers must use an official when they are working on classified papers."