Labour calls for war on offshore tax havens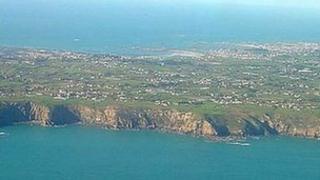 Ed Miliband wants an end to tax havens for UK residents, starting with the Channel Islands and Isle of Man.
Under current rules, British residents are able to keep money in offshore accounts where it can go unnoticed by HM Revenue and Customs.
Labour said the government should "start with diplomacy" to try to encourage tax havens to reform.
But if that fails, the opposition said ministers should threaten to put them on an international blacklist.
Last week, Mr Miliband promised to continue to "deliver fairness" despite acknowledging that money would be tight for years to come.
The Labour leader said he would crack down on "vested interests" and "crony capitalism".
Loopholes
A party source said: "In these tough times, when unfair choices are being imposed on people - like cuts to tax credits, or changes to child benefit - everything needs to be done to ensure those that owe tax pay their fair share."
The European Union says it is working to close tax loopholes, but Mr Miliband is calling on the government to press for much faster action at EU level.
He also says UK ministers should start with the tax havens they are responsible for, such as British Crown Dependencies like Guernsey and Jersey.
According to the Observer, Mr Miliband wants the UK government to force the authorities in the Channel Islands and the Isle of Man to reveal the names of tax evaders.
And he wants to stop wealthy individuals avoiding tax by investing in complex financial products, rather than in simple bank accounts.
A party source said: "We would start with diplomacy, as that is what has worked in the past.
"And if they won't comply voluntarily the government should repeat the tough stance the last Labour government took with them - threatening to put them on the [Organisation for Economic Co-operation and Development] blacklist if they remain uncooperative, which would discourage investors into these tax havens."
Prime Minister David Cameron has promised to crack down on tax evasion and in November, G20 members agreed to sign a convention designed to tackle the problem more effectively.
The OECD said the move could provide governments with up to $100bn (£62bn) in additional tax.
Following the agreement, Mr Cameron acknowledged that the system in place to date - including in the UK - had been "woeful", but improvements would now be made.