Rubbish bin fines to be scrapped under new plans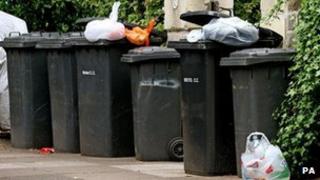 The government is to publish plans on Monday to prevent councils in England fining householders who break minor bin collection rules.
It wants an end to fines for offences such as putting waste in the wrong bins or putting bins out on the wrong day - with reduced penalties in the meantime.
Ministers think the fines - of up to £1,000 - have been used to "punish innocent mistakes".
But local authorities have said fines are only ever used as a "last resort".
They say "only a tiny minority of residents leave their rubbish piled in the street".
Under the proposed changes, to be outlined in a consultation, local authorities would only be allowed to issue fines if they can prove residents are causing a "harm to local amenity" by putting out their rubbish incorrectly.
The tighter rules would still allow councils to take action against householders who cause problems for their neighbours or the local environment by the way they dispose of their rubbish, the Environment Department (Defra) said.
Reduced penalties
Environment Secretary Caroline Spelman said "bullying them with fines" was not the way to get people to boost their recycling rates.
"This consultation will mean that only those causing real problems for their community will get punished," she said.
At the moment, local authorities can give out fixed penalty notices of up to £110, or push for criminal convictions and a much larger fine.
According to figures previously obtained by the Sunday Telegraph, almost 5,000 fixed penalty notices worth £215,955 were issued between May 2010 and April 2011 for offences such as using the wrong sacks for recycling or overfilling wheelie bins.
On Sunday, Defra said that to give residents relief over bin fines before the new law was brought in, waste and recycling minister Lord Taylor was writing to all councils about plans for interim reductions in penalties.
Fixed penalties currently ranging from £75 to £110 would be reduced to £60 to £80, with a discounted rate of £40 for early payment, it said.
Some environmental groups think fines can be a useful way to improve recycling rates.
'Last resort'
Friends of the Earth has previously argued that fines should be retained for some persistent offenders.
Nick Pickles, director of civil liberties and privacy group Big Brother Watch, said: "These fines have contributed to a dangerous and damaging escalation in the secret spying conducted by local authorities, and their abolition is an extremely positive step.
"Not only will councils now not be able to fill their coffers at the expense of residents' privacy and common sense, but it is a blow against the surveillance culture that has sadly come to define life in modern Britain."
David Parsons, chairman of the Local Government Association's environment board, said councils only ever issued bin fines "as an absolute last resort".
He added: "Householders need not have any concerns that innocent mistakes like leaving the bin out on the wrong day or putting paper in the plastics bin will land them with a fine.
"Only a tiny minority of households persistently leave their waste piled up in the street or wilfully contaminate their recycling - which means all other recyclables collected alongside them have to be sent to landfill.
"In these exceptional cases, where repeated attempts to help and educate them have failed, councils need effective and proportionate powers to ensure the inconsiderate actions of the few are not allowed to jeopardise the recycling efforts of the majority."
Plans to outlaw council fines for minor domestic waste offences in England were flagged up when the Department for Environment, Food and Rural Affairs (Defra) published the government's waste strategy in June.
The department's work relates to England, with devolved administrations in Wales, Scotland and Northern Ireland handling their own environmental affairs.
The government's waste strategy resulted from a review launched in 2010, which looked at how best to encourage householders, companies and communities to produce less waste and boost recycling.