Kinnock attacks 'cowards' over Miliband criticism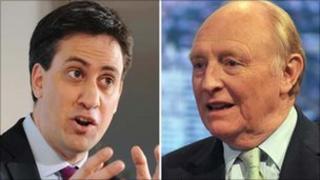 Former Labour leader Lord Kinnock has hit out at "cowards" within his party who have criticised Ed Miliband.
He also berated "a section of the press" who he said attacked Mr Miliband because "he doesn't fit the mould into which they want to pour him".
The peer, who faced fierce criticism as leader, told the BBC a focus on whether Mr Miliband was a "geek" or was guilty of "fratricide" was "irrelevant".
But Lord Kinnock said Mr Miliband was not "destabilised" by the remarks.
Earlier this month, Mr Miliband was criticised by his former adviser, Labour peer Lord Glasman, who complained that the party had "no strategy, no narrative and little energy", while the leader had "flickered rather than shone".
'Noises off'
And he has faced critical newspaper headlines in recent weeks, a poll bounce for the Conservatives following David Cameron's EU veto and one YouGov poll suggesting the Labour leader's approval ratings were at their lowest yet.
The shadow chief secretary to the Treasury, Rachel Reeves, has told the Telegraph that Mr Miliband "does need more time" to make his mark and that Labour was not ready to govern.
However, she defended his leadership, saying that "Ed knows exactly what he believes" and "has a strong sense of purpose".
Mr Miliband has brushed off criticism, describing it as "noises off" and insisting he has "a strong inner belief" that Labour would win the next general election.
Lord Kinnock, who was Labour leader from 1983 to 1992, was a prominent supporter of Ed Miliband in the 2010 Labour leadership contest, in which Mr Miliband narrowly beat his brother, David.
In an interview with BBC Radio 4's The Week in Westminster, Lord Kinnock gave a staunch defence of his party leader, and launched a stinging attack on "Mr Anonymous" - his off-the-record Labour critics.
"Ed is highly intelligent. His intellectual strength is one of his greatest accomplishments. He is courageous," Lord Kinnock said.
"But a section of the press has decided that for some reason he doesn't fit the mould into which they want to pour him and consequently he's the subject of attack."
'Guts'
He added: "If they are going to attack Ed, let it be on issues of substance, let it be on policy rather than on stupid things like: is he ugly, or is he a geek, or did he commit fratricide [Mr Miliband beat his brother David to the party leadership] - all of which are entirely irrelevant but constitute the main coverage of Ed Miliband."
Lord Kinnock - who was Labour leader from 1983 to 1992 - said there were "gossips" and "self-serving fools" in all parties.
"First point, there are very, very few of them. Secondly, they lack the one thing that could give them significance - and that is guts. They are cowards."
He continued: "In politics, division carries the death penalty and they must learn that because, in the end, it's their own chests they will stab as well as the back of the leader of the party."
Lord Kinnock said he had been hurt by personal attacks during his time as leader and been "merciless" in response, but Mr Miliband was "different" and "happily, less aggressive".
"I've no doubt he notices the attacks. But he is characteristically so cool and so calm that I'm massively impressed by it," he said.
"It is a characteristic of his that I knew a long time ago and is put into practice now in very heated and pressurised conditions.
"And he still - without in any sense being arrogant or complacent, quite the contrary - deals with it, manages it and keeps his focus firmly on the basic issues of concern rather than being disturbed or destabilised by these attacks.
"I think that's an admirable quality and certainly one you need in a leader."