Where are the Westminster TV dramas?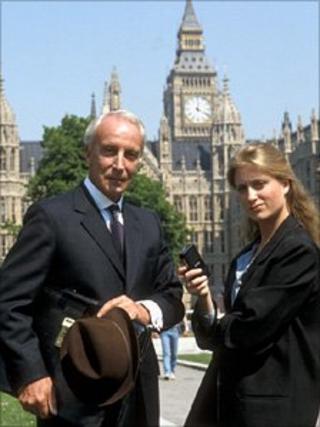 Two decades ago, British political thriller House of Cards gripped TV viewers with its tale of amoral chief whip Francis Urquhart's efforts to win power.
But in 2012, it is a Danish political drama - Borgen - hitting British screens with its subtitled story about the formation of a coalition government, and a female party leader balancing power with the rest of her life.
We've already seen an expenses scandal, affairs, betrayals and sudden death.
But where are the modern British equivalents?
Michael Dobbs, now Lord Dobbs, wrote House of Cards, and wonders why little has filled the gap since his series 20 years ago.
He thinks "that awful word, 'politics'" puts people off.
"What do you want out of a great drama? You want larger-than-life characters, under pressure, forced to take risks, who have secrets, put against an interesting background. Well, that's what Westminster is."
Too cynical?
He argues that political drama isn't about politics, but about "wonderful, flawed people, who happen to be politicians".
House of Cards is being remade for American television, and will star Kevin Spacey as the villainous Francis Urquhart.
But has the British public has become too cynical to accept a political hero - or even an anti-hero?
Dr Matthew Ashton, a lecturer in politics and media at Nottingham Trent University, thinks so.
He believes we would have little tolerance for a British equivalent of President Bartlet, or a Birgitte Nyborg, the likeable party leader in Borgen.
"If you tried something like the American West Wing, which I think is still the gold standard for political TV - where you've got a very idealistic view of the presidency and the people who run it - over here, people would say politicians just aren't like that, and I think they'd reject it."
'True story'
Is it because the British appetite is instead for satire - like the spin doctor Malcolm Tucker's extravagant swearing in The Thick Of It?
Universities Minister David Willetts said the British comic take on politics, should not be dismissed.
"Just occasionally, in real life, one feels like on has strayed into a scene in The Thick Of It," he admitted.
We also still have an appetite for "inspired by a true story" tales such as The Iron Lady, The Deal, or The Queen.
Andy Harries produced both The Queen and The Deal. He says that when it comes to films, a simple concept and a big star help.
But he thinks getting perspective on a true story needs distance.
"If you were looking at Cameron and Clegg now, as a romantic comedy or something like that, I think it would need about ten years to see how that relationship really panned out."
Another option - the drama of the rival Miliband brothers - is "clearly a fantastic story, but I think we really don't know what the story is yet".
Both Mr Harries and Lord Dobbs are surprised that there seems to be little willingness among writers and TV drama commissioners to engage with political themes.
Lord Dobbs puts it down to a combination of a left-wing tendency among the British dramatic establishment and ignorance of Westminster among writers.
He would like to see more writers who know about what he calls "that great gingerbread cake on the river", full of dusty corners and conspiracies.
They are both, however, optimistic that things could change before long.
Mr Harries says a compelling political drama "could do very well."
And in Lord Dobbs' view, the current political climate, with the stretched loyalties of coalition politics, could be a "wonderful breeding ground for great writing".
So, two decades on, is the time right for a great new political catchphrase to replace "You might say that, I couldn't possibly comment"?
To quote The West Wing, "What's next?"