Labour urges City firms shake-up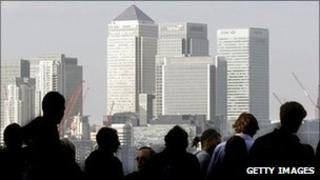 Labour has called for major shareholders to have a bigger say in appointing company boards.
Shadow Business Secretary Chuka Umunna said this would make firms more accountable and prevent a "ratcheting up of pay" for under-performing bosses.
Currently board members themselves can choose the people they want to join them without consulting investors.
In a speech in London, Mr Umunna argued that there was a need for more "shareholder activism".
The levels of pay awarded to City executives have come under attack in recent days.
Research from the Institute for Public Policy Research (IPPR) suggests chief executives in 87 of the FTSE 100 companies took home an average of £5.1m in basic pay, bonuses, share incentives and pension contributions in 2010-11.
This represents a year-on-year increase of 33%, while the average increase in company value was 24%, the think tank said.
'Unscrupulous'
At the weekend Prime Minister David Cameron promised to give shareholders the power to veto pay packages they found to be "excessive".
But, in a speech to the IPPR, Mr Umunna argued this was "not enough" and that such a plan was "backward-looking" because it would apply to deals already in place
His suggestions include putting the four or five biggest shareholders in a company in charge of finding people to serve on its board.
"This would create far stronger lines of accountability to those who ultimately own the business and would promote the shareholder activism and engagement, which is key," he said.
He also called for firms to disclose their use of "remuneration consultants" amid concerns that they are "ratcheting up pay" in a way he likened to "unscrupulous football players' agents - inflating salaries sometimes way beyond talent or contribution".
RBS job losses
"Part of the problem is that, in their advisory role to remuneration committees, the consultants owe their duties to the board and not to the shareholders," he added.
Mr Umunna maintained that some executives were paid "far in excess of what they deserve" and endorsed recommendations by the High Pay Commission to simplify pay packages, publish those of the 10 most highly-paid employees outside the boardroom and the reporting of total remuneration.
Speaking on Thursday, Business Secretary Vince Cable called for a "big change in culture and attitudes" when it came to executive pay with rewards aligned to performance.
The comments came as the Royal Bank of Scotland (RBS), most of which is owned by the taxpayer, said it was to axe 3,500 jobs in the UK and abroad.
Deputy Prime Minister Nick Clegg told the BBC: "I think it would be totally outrageous if, on the back of this announcement...RBS then awarded itself huge lavish bonuses.
"It would be completely incomprehensible to everybody in the country. Last year we were very tough on RBS and we said look, cash bonuses can be limited to £2,000 only and the bosses, the people at the top, can't receive any cash bonuses at all.
"I want us to be at least as tough as that, if not more so this year."