High-speed rail: Government tries to win over doubters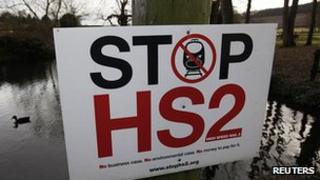 It was Labour who announced the original plans for a second high-speed rail line a couple of months before the last general election.
The then Transport Secretary Lord Adonis saw the idea as continuing the great tradition of British rail-building started by the Victorians.
It would be a low-carbon alternative to air travel and building motorways. It would also help to bridge the North-South divide.
But the sceptics claimed that, like the Millennium Dome, HS2 would be another white elephant.
It was, they said, an expensive attempt to generate some optimism about the economy, but it was fundamentally flawed.
While it might win Labour votes in northern cities and the Midlands, they argued it would be too costly and damaging to the environment.
Now it is the coalition that is spending around £32bn over 16 years for a 250mph train service, initially from London to Birmingham.
The government says its vision is for a "truly national" high-speed rail network, albeit one that is built in stages because of the huge costs.
Conservative heartlands
But the costs are political as well as financial. As David Cameron will be well aware, the proposed route goes through more than a dozen Conservative constituencies, including those of several ministers.
The government has been facing a backlash from some of the Tory heartlands.
A number of prominent Conservative donors have threatened to withdraw their support. Constituency associations may refuse to pay their £10,000 a year to Conservative Party headquarters if the plans go ahead.
And the Welsh secretary Cheryl Gillan, who is MP for Chesham and Amersham, has been one of the most vocal Conservative critics of HS2.
The track would pass through the Chilterns, part of her constituency which has been designated an area of outstanding natural beauty. So she is feeling the pressure from voters.
Of the 700 responses from her constituents to the government's consultation, only three were in favour. She says the plan will leave a "deep scar on the stunning, fragile and unique British countryside".
When a Labour MP asked her recently if he should bet on her resigning over the issue, she replied: "Don't waste your money". But she has been unhappy and as recently as this week refused to answer questions about the issue.
Other Tories object because they feel the economic case has not been made. MPs like Andrea Leadsom say they want to defend the taxpayer against what they see as an "unjustifiable and eye-wateringly expensive project."
Tunnel vision
The government has tried to listen. Transport Secretary Justine Greening held a meeting with MPs in late November.
She won't have been surprised by their arguments. She may have been relieved that more did not turn up. However, a few weeks later, her department announced plans to bury an extra part of the rail line. And guess where? In Chesham and Amersham. Was she hoping she could bury a political problem too?
Although building work would not start for several more years, HS2 would allow ministers to talk about "getting Britain moving again."
Some Labour MPs have concerns but the party is committed to a scheme which they helped to dream up.
HS2 has gained the government's formal backing. But this will be just one "station-stop" on a long journey.
The legislation to implement the plans will be drawn up as a so-called hybrid bill. This allows members of the public to send in petitions about the bill and could lead to protracted battles in Parliament. Some campaign groups may go for a judicial review of the government's plans.
So, the trains may one day run at 250mph but the process of building the railway may turn out to be a slow one.