Extend right-to-buy scheme to social tenants, MPs urge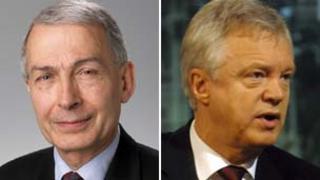 More housing association tenants should be given the right to buy their homes, two senior MPs have said.
Conservative David Davis and Labour's Frank Field joined forces to launch a report by the IPPR think tank.
They said the opportunity to buy given to council tenants should be extended to more than a million people in housing association properties.
Housing Minister Grant Shapps said the government would consider the idea as part of its review of housing policy.
The IPPR's report said extending right-to-buy could generate billions of pounds which could then be reinvested in building new homes to ease waiting lists.
Higher discounts
The right-to-buy policy was championed by Margaret Thatcher's Conservative government.
Under current rules, council tenants and housing association tenants who were in their home when it was transferred from council landlords have the right to buy their properties at a discount, after five years as a tenant.
Mr Field - former welfare reform minister and David Cameron's "poverty tsar" - and former shadow home secretary Mr Davis said the policy had "transformed the lives of some of the least affluent in society".
But they wrote: "A million housing association tenants do not have the right to buy, while the last government's restriction of right to buy discounts also made it more difficult for council tenants to buy their home this way.
"Reinvigorating and extending the right to buy would not only increase home ownership: by using all the funds raised to build new homes, the policy would lift the most vulnerable households in Britain off waiting lists, out of temporary accommodation and into a place they can call home."
'Pull out stops'
The government is considering increasing the discounts on the market value offered to council tenants in England to a maximum of £50,000.
At present the maximum discounts range from £16,000 in most of London to £38,000 elsewhere in the south-east.
Ministers have promised that any home bought under the revamped scheme will be replaced by a new affordable home for rent.
Mr Shapps said: "The government is determined to pull out all the stops to help those who aspire to buy their first home.
"This includes social housing tenants and we will continue to look at ways to support everyone who wants to get on the property ladder."
Kay Boycott, from housing and homelessness charity Shelter, said: "Unless any new right-to-buy scheme ensures one-for-one replacement of each home sold with a genuinely affordable home, these programmes will simply continue the asset-stripping of our housing stock.
"It's also essential that potential buyers are properly advised so that they don't find themselves overstretched and facing repossession."
She said schemes like the one under consideration would not be enough to meet demand for affordable housing and "a long-term, sustainable plan" was needed.
Mark Henderson, chief executive of the Home Group housing association, which has more than 50,000 properties across England, Scotland and Wales, said extending right-to-buy could inject more than £68 billion into the economy.
"There is clearly work still to be done on understanding how we can replace each sale with a new property but this is not an insurmountable problem," he added.