Jim Murphy: Labour must be credible on cuts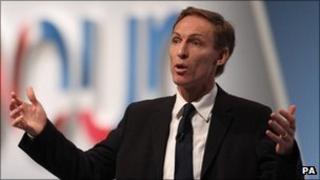 Labour must have "genuine credibility" on the economy and would accept £5bn of defence cuts, shadow defence secretary Jim Murphy has said.
He told the Guardian he accepted the scrapping of Nimrod spy planes, savings in the Trident programme and cuts to civilian allowances.
Mr Murphy said it was "compulsory" that the party be "credible" on defence spending - rather than "populist".
But he said he would oppose other defence cuts outlined by ministers.
The government announced plans to cut defence spending by 8% over four years in October 2010.
Tank regiments
The strategic defence review included plans to scrap Harrier jump jets, the Navy's flagship HMS Ark Royal and Nimrod spy planes, as well as 42,000 Ministry of Defence and armed forces jobs.
In the newspaper interview, Mr Murphy outlined £5bn of the cuts to which Labour would agree: £2bn over 10 years by scrapping Nimrod, £900m over 10 years through efficiencies in the Trident renewal programme, £350m from rationalising the defence estate, £205m from cuts to civilian allowances and £35m by reducing tank regiments.
Mr Murphy said: "This is a thorough, forensic package which strengthens defence economic credibility and deals comprehensively with the idea that we oppose all cuts. The truth is the Labour Party would have to make cuts if we were in power.
"It is important to be both credible and popular when it comes to defence investment and the economics of defence.
"There is a difference between populism and popularity. Credibility is the bridge away from populism and towards popularity.
"It is difficult to sustain popularity without genuine credibility. At a time on defence when the government is neither credible nor popular it is compulsory that Labour is both."
Aircraft carrier
But he said he would not accept all cuts in defence spending outlined in the strategic defence review in 2010.
"The idea that you cannot deploy an aircraft carrier with aeroplanes on it for a decade - whatever way you do the sums it doesn't add up."
BBC political correspondent Carole Walker said until now there had been little detail about what cuts Labour would accept.
She said some of those accepted were unsurprising - given that the Nimrod aircraft had already been destroyed and no-one was arguing for an increase in Soviet-style tank regiments - but it was interesting that Mr Murphy was the first shadow cabinet minister to provide that level of detail.
Labour sources say Mr Murphy's interview was not intended as a criticism of Labour leader Ed Miliband and that it built on remarks by Shadow Chancellor Ed Balls, who said Labour needed to be more up-front about spending cuts.
'Absolutely committed'
Mr Murphy's shadow cabinet colleague Rachel Reeves told BBC Radio 4's World at One programme said he was right to point out that Labour "would have to make difficult choices about tax and spending" and to outline cuts that would be accepted in defence.
"It's something that shadow ministers in all areas are doing, it's really important that Labour set that out so we can talk about areas where the government are getting it wrong."
She said as the government plan to eliminate the structural budget deficit within this Parliament had failed - due to rising unemployment and flatlining growth - so Labour would have to set out how it would continue to reduce the deficit after the next election.
"We can't commit to reversing any of the spending cuts and tax increases that the government have put forward," she said.
"Ed Balls is absolutely committed as is Ed Miliband, to Labour being credible and serious in terms of deficit reduction."
But Treasury minister Chloe Smith said it suggested that "even [Ed Miliband's] own shadow cabinet are losing confidence in Labour's economic policy".
She added: "Until Labour say what spending they would cut to clear up their mess, rather than calling for more spending, more borrowing and more debt, they will never be trusted with our economy again."