Ed Miliband lacking strategy and energy - Lord Glasman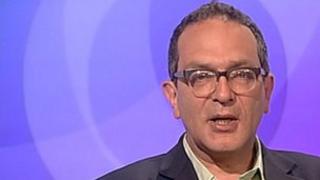 Ed Miliband seems to have "no strategy and little energy", a Labour peer who has advised the party leader in the past has claimed.
Lord Glasman told the New Statesman he "backed" Mr Miliband as opposition leader but he needed to change his approach if he was to "break through".
Labour was failing to win the argument on the economy, he added.
Sources close to Mr Miliband said Lord Glasman could "say what he likes as he has no formal role" in the leadership.
The founder of the "Blue Labour" group, Lord Glasman has a history of outspoken comments about Labour strategy. He has attracted attention for attacking Labour's record on immigration and suggesting half of the UK's universities should be closed to focus on vocational skills development.
The peer's comments on Mr Miliband's leadership come at a time when some within the party are concerned that Labour, despite a series of by-election victories in 2010, is not doing better in the polls and its arguments on the economy and the deficit are yet to hit home.
'Bad times'
Lord Glasman said Mr Miliband had succeeded in holding the party together following its 2010 election defeat but that he had "flickered rather than shone and nudged, not led".
"On the face of it, these look like bad times for Labour and for Ed Miliband's leadership," he wrote. "There seems to be no strategy, no narrative, and little energy.
"Old faces from the Brown era still dominate the shadow cabinet and they seem to be stuck in defending Labour's record in all the wrong ways."
He suggested Labour was relying on disillusioned Liberal Democrat supporters and public sector workers for its support and not reaching out to other groups in society.
"We have not won, and show no signs of winning, the economic argument," he added. "We have not articulated a constructive alternative capable of recognising our weaknesses in government and taking the argument to the coalition.
"We show no relish for reconfiguring the relationship between the state, the market and society. The world is on the turn, yet we do not seem equal to the challenge."
In conclusion, Lord Glasman said the Labour leader needed people's "love and support", but had to show leadership and action.
"He should leave behind stale orthodoxies and trust his instinct that change is essential... So far Ed Miliband has honoured his responsibilities but has not exerted his power. It is time that he did so."
Labour is in the middle of wide-ranging policy review which could report some time later this year. Mr Miliband reshuffled his shadow cabinet top team in October, promoting new faces elected to Parliament in 2010 such as Chuka Umunna and Rachel Reeves.
Lord Glasman later denied that his comments were meant as an attack on Mr Miliband and attempted to play down his role behind the scenes.
"My article has been taken out of context," he said in a statement. "It makes clear that I am totally supportive of Ed's leadership and his courageous stand against predatory behaviour in the economy.
"I have never been a senior adviser to the Labour leader. I am a backbench Labour peer and an academic."