Experts to consider case for new drug driving offence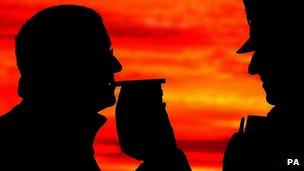 Ministers are asking a panel of experts to consider the scientific case for a new criminal offence of driving a car shortly after taking an illegal drug.
At the moment, police must prove that a driver's actions have been impaired by drug use to bring charges.
The panel will provide technical input on the effect of individual drugs, such as cocaine and cannabis, on drivers but will not offer advice on policy.
Road safety bodies said existing laws were "totally inadequate".
The panel of scientists and academic experts in the field of drug abuse could start work within the next few months.
The move has been driven by concerns in Whitehall that while it is now considered relatively easy to enforce the law against drink-driving, the equally serious offence of driving under the influence of drugs is proving more difficult to deal with effectively.
An independent report by Sir Peter North in 2009 concluded that the problem of drug-driving was "out of all proportion" to the official figures.
Among the panel's tasks will be to examine the evidence basis for any new criminal offence, how it could be defined, and whether it is possible to prescribe levels for the point at which different drugs impair a driver's reactions and performance behind the wheel.
It is also expected to look at whether an individual's ability to drive safely could be impaired by the use of prescription or other legally obtained drugs and the impact of taking a combination of drugs as well as mixing drugs with alcohol.
"Britain has some of the safest roads in the world but we know how important it is to tackle the menace of drug-driving," road safety minister Mike Penning said.
"That is why we are putting together a panel of experts to give us advice on the technical aspects of introducing a new offence of driving with an illegal drug in your body."
At the moment, suspected drug drivers are required to undertake five exercises to assess their ability to drive, including counting out 30 seconds and walking in a straight line. Suspects who are arrested can be obliged to be examined by a doctor and to provide a blood test.
But some MPs say the police should be allowed to conduct roadside drug tests as substances can be out of an individual's system by the time they arrive at a police station.
The Home Office has trialled new drug screening technology - so-called 'drugalysers' - for use in police stations but has yet to approve specific devices.
Road safety charity Brake said its research suggested more than 10% of 17-24 year olds had driven shortly after taking illegal drugs last year and were taking "an appalling gamble with their own and others' lives".
"We need the government to follow through with its commitment to tackle this problem," said the group's senior campaigns officer Ellen Booth. "For too long the law on drug-driving has been totally inadequate.
"We need a ban on driving with illegal drugs in your system and we need roadside drugalysers. The longer this takes, the more lives will be violently and tragically lost."
According to Department for Transport figures, drug driving was cited by police as a "contributory factor" in 1,094 road traffic accidents in 2010, including 51 fatal accidents.
In 2010, it is estimated that 250 people were killed in drink driving accidents, accounting for 14% of all road traffic fatalities.
Related Internet Links
The BBC is not responsible for the content of external sites.