World 'dangerously unprepared' for future disasters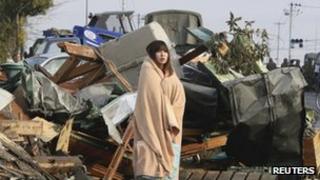 Some countries' failure to pay into a UN disaster relief fund is leaving the world "dangerously unprepared" for future crises, Andrew Mitchell says.
The international development secretary said several countries had not donated to the Central Emergency Response Fund, aimed at speeding-up relief delivery.
Britain has increased its pledge for 2012 from £40m to £60m but the fund is expected to be £45m short next year.
The international community must "wake up" to the challenge, Mr Mitchell said.
The Central Emergency Response Fund (CERF) was set up in the wake of the Indian Ocean tsunami on 26 December 2004. It includes a grant element based on voluntary contributions from governments and private sector organisations and individuals.
The fund was designed by the United Nations to speed up relief in crisis zones with one central fund, though many countries still choose to give bilaterally.
ActionAid spokeswoman Jane Moyo told BBC Breakfast: "The importance of this fund is that it pre-positions money where it is most needed and it is important that people - other governments - pull their weight because then we can help people who are most in need, in their time of most need."
'Basic humanitarian decency'
The fund has been hit hard by a series of natural disasters this year - the tsunami in Japan; an earthquake in New Zealand; famine in the Horn of Africa; and floods in Pakistan and the Philippines.
Mr Mitchell said the increasing numbers of people living in low-lying or famine-prone areas meant the scale of future tragedies would be greater.
He said many countries wait for events to happen before offering money but he said this could affect critical emergency response work.
He said in the first few hours of a disaster, when survivors are trapped in the rubble of an earthquake, delays and lack of resources could mean the difference between life and death.
"This year the world has been rocked by devastating disasters and the evidence suggests this trend is likely to continue.
"The past shows that international responses could have been more effective if they had been properly planned and coordinated as part of one single system instead of a patch-quilt approach we see all too often."
Mr Mitchell said: "The system is in place but too many countries and agencies are failing to back it, leaving the world dangerously unprepared for the scale and number of shocks that lie ahead.
"The international community must wake up to this challenge and unite its efforts under one umbrella," he added.
International Development Minister Alan Duncan told Breakfast that while many countries were facing financial difficulties, it made sense to donate emergency aid in advance and was "basic humanitarian decency".
"If you actually put money into a fund in advance of what are going to be more predictable emergencies around the world such as floods and earthquakes you can actually save a lot of lives by being able to respond very quickly as a result."
Mr Duncan said being prepared could also save a lot of of money "so spend to save is a good rule in international development".
Mr Duncan refused to name to the countries the government believed were not pulling their weight. But he said there were "one or two European ones" and countries from both east and west.
CERF's stated objectives are to:
promote early action and response to reduce loss of life;
enhance response to time-critical requirements;
strengthen core elements of humanitarian response in underfunded crises