Cameron to attend funeral of Czech leader Vaclav Havel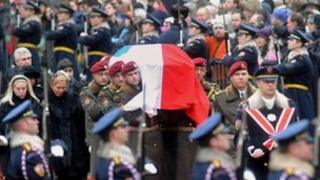 Prime Minister David Cameron will attend the funeral of former Czech president Vaclav Havel in Prague on Friday, Downing Street has confirmed.
Mr Havel, who led the 1989 overthrow of communism, died on Sunday aged 75.
Mr Cameron said he had "devoted his life to the cause of human freedom" and Europe owed him "a profound debt".
Other world leaders, including France's Nicolas Sarkozy, Germany's Angela Merkel and Israel's Shimon Peres, are also expected attend the funeral.
On Thursday, thousands of people accompanied Mr Havel's coffin as it was taken to Prague Castle for his lying in state.
He became president of Czechoslovakia in 1989 after the fall of communism. When Slovakia split in 1993, he remained Czech leader until 2003.
Mr Cameron said he was "deeply saddened" to learn of his death.
"For years, communism tried to crush him and to extinguish his voice. But Havel, the playwright and the dissident, could not be silenced," the PM said.
"No-one of my generation will ever forget those powerful scenes from Wenceslas Square two decades ago.
"Havel led the Czech people out of tyranny. And he helped bring freedom and democracy to our entire continent."
US Secretary of State Hillary Clinton is also expected to attend Friday's funeral at St Vitus Cathedral in Prague. It is thought her husband, former president Bill, may also be there.