Archbishop's adviser to become Ed Miliband's aide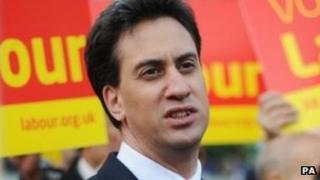 Labour leader Ed Miliband has appointed a senior adviser to the Archbishop of Canterbury as his new chief of staff.
Tim Livesey is also a former diplomat who has previously worked in the Foreign Office and as a press secretary to Tony Blair at No 10.
Mr Miliband said he would bring "deep values and commitment to making Britain a fairer, more just country".
Mr Livesey, who replaces acting chief of staff Lucy Powell, said he was "delighted" to join Mr Miliband's team.
Labour have also announced they are creating a six-member executive board following a review of the party's structure and procedures.
The review, carried out by former ITV chief executive Charles Allen, was designed to reinvigorate the party ahead of the next general election.
Mr Livesey has been the Archbishop of Canterbury's senior adviser for international affairs since September 2010, following four years as his secretary for public affairs.
Before that he worked for 20 years as a diplomat in Morocco, Nigeria and Paris.
Between postings, he was assistant press secretary to Mr Blair between 2000 and 2002.
Announcing the appointment, Mr Miliband said: "Tim has a wealth of knowledge and experience of Whitehall and Westminster.
"He is also someone who brings deep values and commitment to making Britain a fairer, more just country. I look forward to him putting these skills and ideals into practice to help us as an effective opposition and an alternative to this government."
Mr Livesey said: "The challenges ahead, not just for the party but for the country are immense.
"We all know of Ed's unflinching commitment, and the commitment of the whole party, to tackle those challenges.
"I hope to do my bit and look forward to getting started in the New Year."
Ms Powell becomes deputy chief of staff with responsibility for political and external relationships.