Street light cuts: Labour call for safety review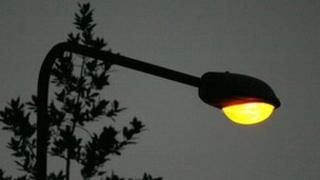 Labour is calling for an urgent review of the impact of cuts to street lighting on women's safety.
Several councils have reduced their lighting - or turned it off altogether at certain times - to save money.
Labour's Stella Creasy said it was "breathtakingly complacent" of the government to allow this to happen without understanding the effects.
Ministers said any plan to cut lighting should be taken locally and only after consultation with the public.
Labour cited six county councils - Hertfordshire, Northamptonshire, Norfolk, Essex, Nottinghamshire and Derbyshire - that it said were scaling back on lighting.
A number of other local authorities, including Kirklees in West Yorkshire, and Gwynedd have also said recently that they planned to follow suit.
'More accidents'
By 2012, up to 80% of street lights in Hertfordshire could be switched off between midnight and 05:00.
Citing "worrying stories" from towns like Stevenage and Welwyn Hatfield, shadow home affairs minister Ms Creasy said the move was already having a negative impact on communities.
"We are already hearing stories where the lights have been cut off after midnight that there have been more accidents, there is more crime and people are more frightened because the streets are so dark," she told the BBC News Channel.
"We are simply saying to the government 'look at these figures, look at what is actually happening' and conduct a proper review. Local authorities are under a lot of financial pressure. That is why the government needs to step in."
While reducing overnight lighting could save councils a "couple of thousand pounds here or there", she suggested it may cost the country more in the long run in terms of dealing with accidents and crime.
'Inappropriate'
Sharon Taylor, a Labour councillor in Stevenage, said the move was "entirely inappropriate" for the town as it had many shift workers and a busy night-time economy.
"Residential areas will be completely dark from midnight until 5am," she said. "People who stay at home at night will feel less safe in their homes."
Local Government Secretary Eric Pickles has said in the past that cutting lighting overnight could be a "sensible" environmental measure but it must be done at a "reasonable time" and there must be local consultation.
In a statement, the Department for Communities and Local Government said: "Street lighting plays an important role in road safety, as well as ensuring the personal safety of pedestrians. There may be some roads where lights could be dimmed in the very early hours, saving taxpayers' money and reducing carbon emissions.
"This should be a local decision by elected local councillors, reflecting local circumstances and the views of local residents - especially in relation to any concerns about crime."
'Pragmatic approach'
Councils are having to find savings in their operations as they face 28% cuts in government funding over four years.
Derbyshire County Council have said they could save an estimated £400,000 a year by switching off 40% of their total lighting overnight. The council says 70% of residents who responded to an initial consultation supported the move.
"We are not talking about plunging the county into darkness," deputy leader Simon Spencer said.
"We are going to take a pragmatic approach to this."
The Local Government Association, which represents more than 400 councils in England and Wales, said cutting lighting could save money "without reducing public safety" but the police and local residents needed to be consulted.
"At these times of severe financial pressure all councils are looking for ways to make savings without impacting on frontline services such as child protection, adult social care, collecting bins and filling potholes," the LGA's Peter Box said.
Westminster Council in London said they were taking a different approach by adopting new technology to "dim" lights to 75% of their normal capacity at non-peak periods.
They hope the system, which will take four years to instal, could save them up to £8m over a twenty year period in lower energy and maintenance costs.
"It makes no sense to be wasting money and energy with lights burning brightly at all hours," said Ed Argar, the council's cabinet member for city management. "At a time when other councils are turning lights off, we are investing in keeping them on - but at an appropriate level."